Today, Atlassian products are used by more than 180,000 customers from over 190 countries.
Atlassian-based Information Technology Service Management (ITSM) solutions make it easier for IT teams to work together in real time and increase the effectiveness of their performance.
Exposit also uses Atlassian-based products to ensure transparency of communication between employees and improve working results.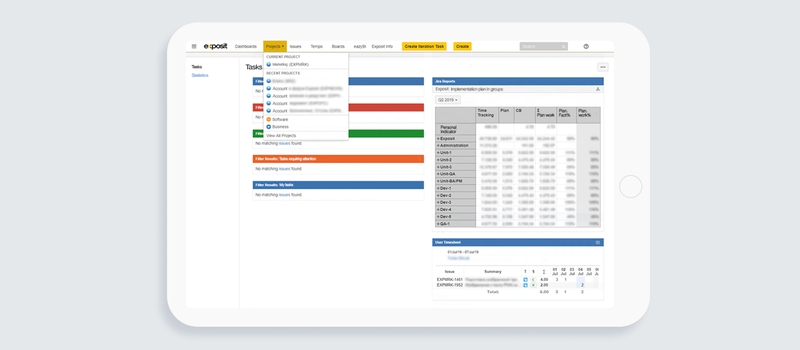 For managing tasks and working on documents together, we use Atlassian products like JIRA and Confluence. To control project development processes and coordinate code development, our teams work with Atlassian Trello and Bitbucket.
However, while working with these solutions, we decided to implement specific features to make the most of Atlassian software. That is why Exposit developed additional extensions in accordance with the specifics of the work processes in our company.
Based on our experience, we would like to share the advantages and disadvantages of ready-made and custom Atlassian-based ITSM solutions. Our tips will help you choose the most suitable option for your company.
Ready-made Atlassian Applications
Ready-made Atlassian applications are off-the-shelf software that you can use immediately after buying them. These products do not require any changes and are suitable for small businesses.
Atlassian provides a wide range of ready-made ITSM products, including Jira Service Desk, Jira Software, Confluence, Hipchat, Statuspage, Bitbucket, and Trello.
Each of these products plays a specific role and delivers the necessary functionality to support a collaborative, communicative, and efficient service operation.
To improve Atlassian products and make them more customized, you can also use ready-made Atlassian plugins. These plugins can be dropped into your systems to add new functionality or change the behavior of existing features.
What are the advantages of off-the-shelf solutions?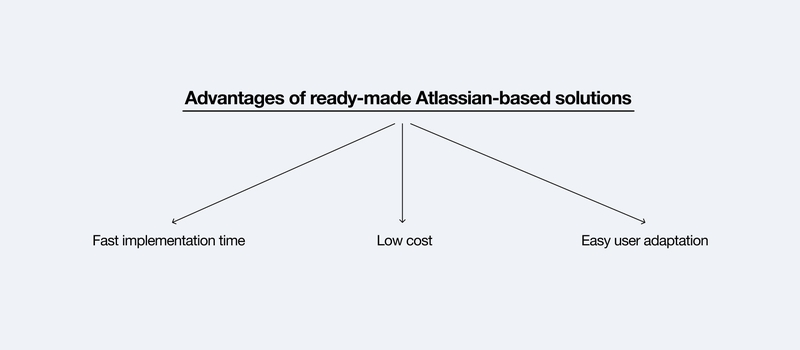 Fast implementation time
The time not spent on the development process will help you focus on solving other business issues. Off-the-shelf Atlassian products are ready to use, so you can deploy them much faster than tailor-made ones.
Low cost
A ready-made application is a cost-effective way to get reliable software. These applications already have a set of features, so you do not need to spend money on developing additional functions.
Easy user adaptation
Off-the-shelf Atlassian products are used and tested by more than 180,000 companies. Thanks to their feedback and reviews, the Atlassian development team could achieve an intuitive interface and high usability of their ITSM solutions.Thus, when implementing this software, your employees will be able to spend minimal time mastering the program.
What are the disadvantages of off-the-shelf solutions?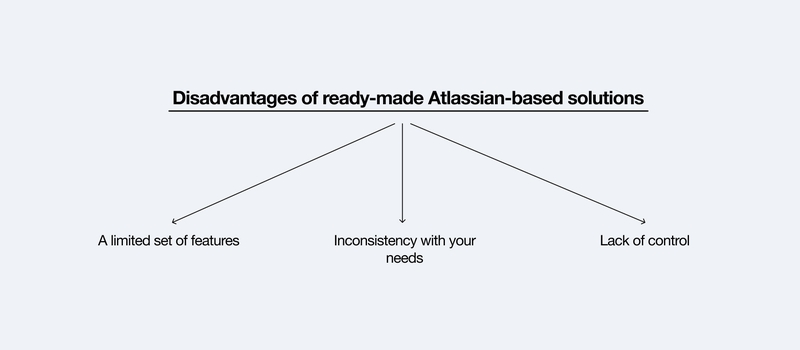 A limited set of features
Ready-made Atlassian ITSMs offer common solutions with a fixed number of fitches for all their users to manage the IT service delivery process. Thus, using these applications, you may face the problem of not having the necessary functions or the existence of features you will never use.
Inconsistency with your needs
Atlassian's off-the-shelf applications are universal products that suit a larger number of businesses. That is why such products do not guarantee exact compliance with your specific requirements and industry needs.
Lack of control
Atlassian retains ownership of the ready-made software, selling you only the rights to use the systems. It means that the system configuration and its updates will not depend on your needs.It may not be a problem for you at first, but if your company grows or your systems change, the program may not be able to keep up with it.
Custom Atlassian-based Applications
Custom Atlassian-based Applications are designed to meet the specific needs of an organization or individual users. With the help of tailor-made solutions, you can effectively streamline your IT service processes and build a framework for success.
For example, Exposit has customized Atlassian products to adapt them to the needs and processes of the company. Now we don't have to create projects, iterations, or invoices manually and can control data flow more accurately.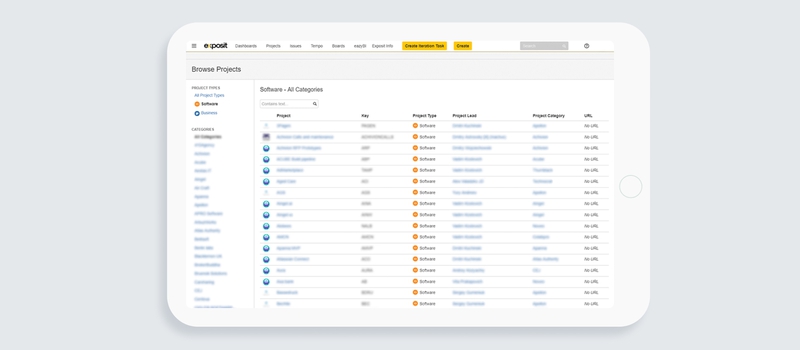 What are the advantages of tailor-made solutions?
Functionality relevance
A custom ITSM is a unique system that meets your interests and adapts to your needs. Such products do not have unnecessary functions, only those that will benefit the company.To develop tailor-made solutions, the development team takes into account the specifics of your business, including the size of the company and its industry orientation, as well as the social and business needs of your employees.
Improved security
If your information is of particular value and importance, developers can provide additional data protection to prevent its possible loss or theft. For example, the development team can equip the system with powerful security methods, such as two-factor authentication.
Boosted competitiveness
Thanks to the unique software and a set of functions designed specifically for your company, you have all the necessary tools to focus on your projects. The high-quality performance of your work will help you ensure higher customer satisfaction and strengthen your reputation.This approach will also help you stand out from other companies and give you a competitive advantage over your competitors.
What are the disadvantages of tailor-made solutions?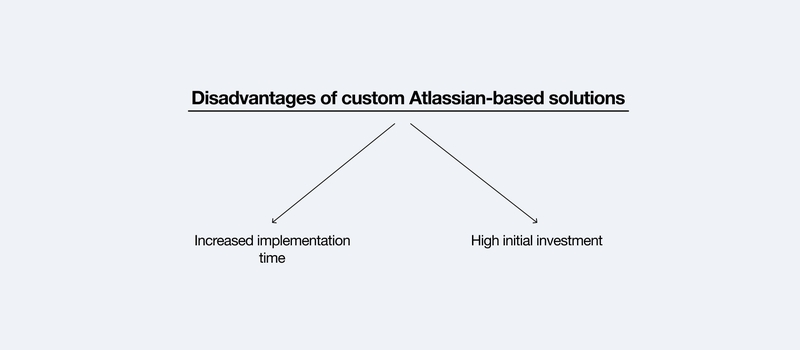 Increased implementation time
If you want to expand the functionality of ready-made Atlassian products with useful plugins, you will need to spend a few months creating a reliable system. The development time of such applications depends on the complexity of your idea.
High initial investment
One of the main disadvantages of custom ITSM development is its cost. As with any custom-made product, a tailor-made system will cost more than the initial price of off-the-shelf applications.However, these costs will very quickly be justified by the increased efficiency of ITSM solutions.
Buy or Build?
Before choosing whether a ready-made Atlassian solution or a custom Atlassian application is suitable for you, you need to analyze the needs of your business and determine its priorities.
We recommend that you select a ready-made ITSM if:
you need solutions as soon as possible;
you do not want to spend a lot of time training employees;
you are satisfied with the basic functions of ready-made solutions.
We recommend that you choose a custom ITSM if:
your company is planning rapid growth and development;
you are willing to wait to get your solution;
you have complex collaboration processes and need specific functionality.
Atlassian-based solutions help IT teams increase velocity, improve efficiencies, and minimize waste. Both custom and ready-made systems are important for IT professionals, and the choice between them depends only on your goals and needs.
Exposit specialists have vast experience in managing, configuring, and extending Atlassian products. Our Atlassian experts can help you customize Atlassian products to your specific needs and workflow. Contact us to create a reliable product and improve the way your teams work together.