Services
Client-focused custom software development services throughout the development life cycle of Web and Mobile software.
We speak your programming language and provide a full package for custom software development: from idea shaping to system maintenance.
Full-cycle development tailored to your needs
Translating project requirements into reliable software based on the quality and easy to support code
Our experienced Frontend, Backend, and Mobile engineering teams provide quality development on any complexity levels. We constantly enhance our technical expertise and support knowledge-sharing culture to provide your product with up-to-date and effective technologies and frameworks.
Ensuring stable performance at all levels of your software product
Our QA team carefully identifies bugs using the best practices and approaches in manual and automation software testing. We ensure the quality and usability of the final product providing compliance with the specified project requirements and seamless user experience.
Enhancing ways of interaction with your software using integration with 3-d party systems
We enhance software functionality by integrating corporate, bespoke, standard and open-source software into software packages. We improve components' interaction and management using specific software APIs to help you running apps smoothly.
Assisting you at the early stages of developed software adoption
We provide timely support during cooperation based on the Fixed Price model, including bug fixing, for 3 months after the software project completed. Our team is always ready to resolve your issues remotely or temporarily operate on the basis of your office, if necessary.
Collecting, analyzing, and preparing project requirements closely with your stakeholders
We evaluate your idea and analyze the requirements to provide a structured and independent expert view of your project: scope of work, required specialists, time and budget for the project. Our Business Analysts prepare project documentation and specify business tasks to find the best ways of implementation and make you fully prepared for the development phase.
Creating user-centered design focusing on usability and seamless interaction with a software product
We provide design services including Prototyping, UX & UI Design, and Usability Engineering. Our UX and UI specialists study the behavior of users, creating user personas, empathy maps, and customer journey maps to create intuitive design considering the specifications of your target audience and the purpose of your app.
Effective planning, coordination, and troubleshooting management at all stages of your project development
We effectively manage your projects using Scrum, Kanban or other preferred methodologies. Our project managers help you draw up a development plan and supervise its implementation to get on-time and on-budget results. We provide access to our Issue Tracking, Test planning tools, and Version Control Systems to engage you in the development process.
Cooperation models
Project Development
Time & Material
The Time & Material model is used when it is difficult to define the full scope of work before the project starts. The client pays only for the implemented tasks according to the time spent.
Fixed Price
The Fixed Price model is used in case of fixed time and budget. All stages of work, results, schedule and costs are defined by the contract in advance.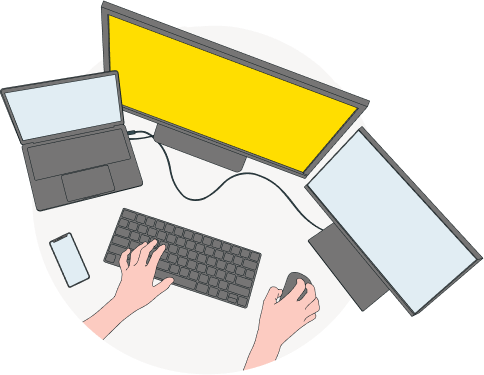 Development Team
We build a stable well-balanced Team Line-up for your specific project providing you with a custom combination of software development services including analysis, project management, design, engineering, testing, and deployment.
The Development Team model is suitable if you need additional specific services to refine or extend the functionality of your project. In this case, the work of Exposit specialists is paid according to the time spent on your project.