Today, effective collaboration between businesses and individuals has become extremely important for obvious reasons: the modern world, with its unexpected challenges and remote working environments, is changing the game's rules. Changing business conditions make it critical for companies to ensure easy solutions for remote work and collaboration.
Atlassian working environments won the love of teams from different industries a long time ago. Jira, Confluence, Trello, and other products are no longer tools for IT project management only: HR, financial services, hospitality, and many other domains have already implemented Atlassian into their daily working processes.
Well, that's not surprising since Atlassian offers their customers flexible and customizable solutions for management, administration, collaboration, planning, tracking, and getting pleasure from their everyday work. 
Atlassian's ever-increasing popularity among diverse companies also affects how software products enhance collaboration channels and their reach: today, the Atlassian Marketplace offers users a lot of integrations to make collaboration in different working spaces one and the same process.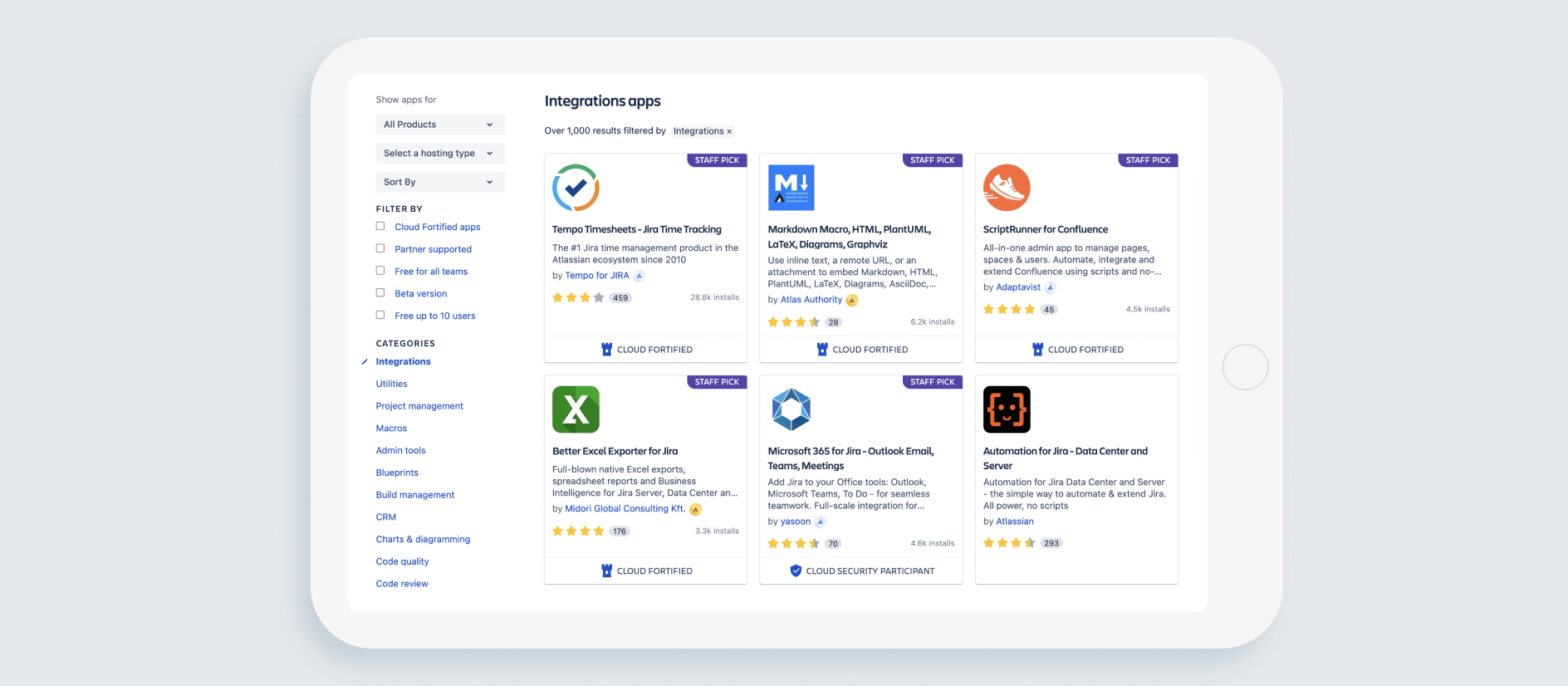 Let's find out why you should consider integration with Atlassian for your product and what benefits it can bring to your users and your business.
Benefits for teams using Atlassian Marketplace add ons
Bringing the most important data together is the essence of integrating your product with Atlassian. As a bonus, teams that are using your product will get favorable benefits:
Having all things connected in one place
Integration with Atlassian allows you to have all project data in one place. Team members will no longer have to search across the emails and numerous folders, they will have real-time view and keep the information up-to-date.
Getting seamless workflow
Thanks to the integration, teams can organize projects efficiently, assign people to specific tasks, minimize interruptions, optimize communication and automate processes. Consequently, it will enhance the productivity of your employees and the workflow of your company.
Improving agility
Switching back and forth between applications or moving data from one app to another reduces your overall performance. The possibility to fulfill the tasks more quickly and accurately within one working space improves the flexibility of project workflow and agility of team members.
Increasing project management transparency
Transparency makes the project team feel better and work better. Through integration, teams can visualize all projects, break them down into separate work items and keep real-time track of them.
When your users benefit from your product, your business benefits double
There's a strong correlation between customer satisfaction and business success. When users feel valued and enjoy the overall experience of doing business with your brand, they'll often come back for more. Integrating your product with Atlassian allows your users stay engaged with their work and your brand while you are achieving crucial business goals:
Expansion of the audience
Atlassian community is very big and brings together a lot of people from different industries. Over 200,000 customers use Atlassian products in their daily working processes everyday. Integration with Atlassian is a perfect chance for your business to increase reach and your brand awareness.
Gaining the competitive advantage
Investing in facilities like software integration delivers a superior experience to your customers and may often become the determining factor in preferring you over your competitors. Keep up with the market trends and stay competitive!
Is integration always a good idea?
Regardless of numerous benefits, integration not always become a splendid solution. Before integrating, foresee the result. What problems will be solved by integration? How will it benefit your business and your clients? Here are some points to consider.
Automation
Not always automation in ready-made tools does good. In some cases, some data needs to be processed manually. In a customized integration, you can specify which processes will be synchronized automatically and also who will have access to different levels of the information.
Size of integration
When planning an integration, always consider the amount of information that will be migrated. Not all the ready-made plugins are suitable for this. In this case, you need expert companies that can provide a full-cycle custom integration.
Scalability
When starting an integration, leave space for growth. For example, in a client-oriented company, the number of customers grows every year. Therefore, be sure to have the resources to expand when needed.
Support
When something goes wrong, whom to ask for support? If it is an off-the-shelf tool, you will have to be content with standard support agents' answers. Sadly, standard doesn't mean client-oriented. If it is a custom-based solution, the solution provider will offer a solution to your issue.
If you want to increase your customers' experience by extending your product with Atlassian plug-ins, contact us. Being the Atlassian Silver Solution Partner and having a long experience developing Atlassian add-ons, we can assist you with implementing software solutions and providing consulting, integration, and customization services.