Jira is widely known as a highly effective tool for controlling the company's internal procedures, including project and task management for teams. It offers users a wide range of convenient tools to plan, track, and report on work, saving time for your employees and improving their efficiency.
In addition, if you want to expand the capabilities of JIRA, our team is always ready to customize your system and adjust it to the needs and requirements of your business.
So, how can we help you set up your business processes and ensure the smooth implementation of your projects and the unimpeded fulfillment of business tasks?
JIRA is an optimal solution for your business team
The Exposit team can improve JIRA to make the system meet the specific needs of an organization or individual users. With the help of tailor-made solutions, you can effectively streamline your business processes and build a framework for success.
As a result of this approach, you will get a convenient and user-friendly interface that will allow your employees to easily and quickly learn how to use the program. This way, your employees will be satisfied with the process of working with JIRA and will be able to bring effective results faster.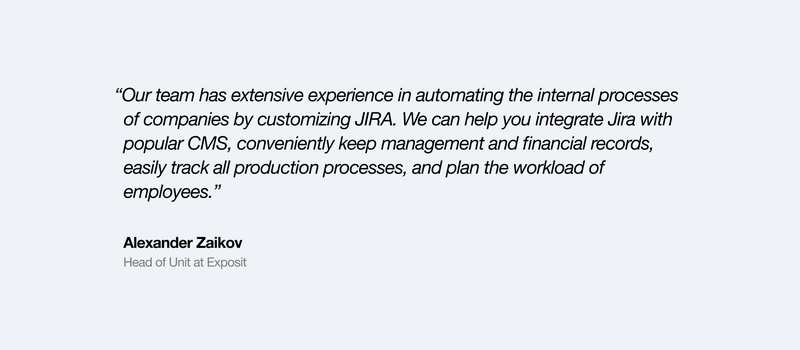 With the help of a customized JIRA, you can handle a wide range of processes and prioritize a large amount of work. For example, the system can allow HR teams to track personnel service requests and manage job candidates, help marketing departments control marketing campaigns and streamline marketing processes, and much more.
So, what other use cases of working with a customized JIRA can we offer you?
Software & Hi-Tech
The Exposit team develops Atlassian JIRA plugins for improving the productivity of IT employees. The plugins allow users to track the sprint capacity by setting time or story points for each task, distributing roles among team members, and monitoring sprint KPIs.We can provide you with opportunities for a quick and easy review of tasks: setting colors per value, organizing groups according to the importance of a task, project status, priority of an issue, and more. Our engineers also participate in tracking Epics in progress by visualizing them on a sprint calendar.The customization of JIRA will also allow you to get automatic project reports, accurate team performance analysis, and timely warnings about risks and problems based on the current project data, including a budget, deadlines, etc.This way, you will be able to properly distribute the workload, reduce risks and increase the satisfaction of your customers by providing them with improved service and high-quality products.So, let's take a look at a JIRA use case for a software team. The IT company was struggling to manage their work and time spent on performing their tasks. In addition, the team was disappointed, feeling that they lacked enough functionality of the system.

To help this client, our team has developed a new JIRA plugin that allows users to automatically track working time in certain tasks. The plugin allows users also to track a period or at once into several tasks. There is a timer above each task for manual time control.

In addition, the plugin takes into account weekends, holidays/days transfers, and provides the ability to edit/delete existing work logs. There is also a system of notifications for notifying users about automatic tracking and over-tracked time.


Media & Entertainment
One of the examples of using JIRA in the Media & Entertainment industry is a solution for our customer's service desk. The client needed to configure the mail and deploy the service desk on the server in order to speed up the work of their employees.Within this project, the Exposit team develop a JIRA plug-in that automatically receives the service desk library and replaces the classes processing from the mail with the developed ones.This approach solves the problem of receiving reply-to messages and simplifies the internal working process of the service desk.By the way, we added an Event Listener to solve the issue with adding customers to the organization. It catches the user creation events, creates a new organization if it does not exist in the system, and adds this user to the organization.Thus, if the support service receives a message from a new person with the same mail domain, he is automatically added to this organization.
Retail
Atlassian JIRA is also an amazing tool for companies that specialize in Retail. Exposit can set up the workflow in this system, including adding new business processes, configuring task types, and integrating with other platforms.For instance, our customer from the retail industry was faced with a problem of internal process efficiency and needed the optimization of working procedures. In order to solve their problems, our team configured the company's workflow in JIRA and added the system to the client's needs.As a result of the performed work, the REST API sends queries to the Solution manager, which then works on the tasks. At the output, when the status of the task is completed or nearly completed, the Solution manager sends it with the updated status back to JIRA.

Financial services
Exposit can adapt JIRA so that your employees can closely monitor all internal operations and receive accurate reports on the work done by each team member.The system will also easily allow you to save and transfer financial documents, keep records of issues to track emerging issues and automatically create monthly tasks.We can also set up a convenient process for you to collect requests from your employees and monitor your budget and financial expenses. Thus, the system will allow you to predict potential financial growth and quickly respond to changes that may affect the economic situation of the company.For example, one of our clients was a processing company that provides services for issuing and acquiring cards of international payment systems. Earlier, the company used Lead Management System (LMS) that helped them to control and manage leads.However, the platform was obsolete and slow, which decelerated the process of employees' work. That is why our experts tuned the entire workflow of the company in Atlassian JIRA, including the addition of new business processes.

For this processing company, we fully customized JIRA and improved the system functionality. By the way, our team integrated the platform with various third-party systems to add the necessary external data and streamline the work of employees.

Jira is a perfect tool for improving your internal business processes
Jira is a perfect tool for improving your internal business processes and easily managing work-related procedures. Customizing JIRA, you will adapt the system to your needs and requirements and make the process of working with the software more reliable and smoother.
This way, the system will allow you to simplify the work of your employees and bring your business to success.
The Exposit team has a vast background in developing Atlassian solutions and helping our customers with all of their JIRA needs. Contact us if you are looking for custom business intelligence solutions driven by Atlassian experience.