Jira is widely known as a highly effective tool for controlling the company's internal procedures, including project and task management for teams. It offers users a wide range of convenient tools to plan, track, and report on work, saving time for your employees and improving their efficiency.
In addition, if you want to expand the capabilities of JIRA, our team is always ready to customize your system and adjust it to the needs and requirements of your business.
So, how can we help you set up your business processes and ensure the smooth implementation of your projects and the unimpeded fulfillment of business tasks?
JIRA is an optimal solution for your business team
The Exposit team can improve JIRA to make the system meet the specific needs of an organization or individual users. With the help of tailor-made solutions, you can effectively streamline your business processes and build a framework for success.
As a result of this approach, you will get a convenient and user-friendly interface that will allow your employees to easily and quickly learn how to use the program. This way, your employees will be satisfied with the process of working with JIRA and will be able to bring effective results faster.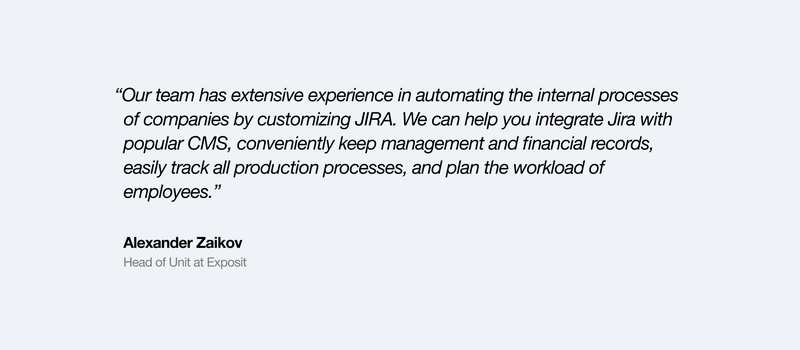 With the help of a customized JIRA, you can handle a wide range of processes and prioritize a large amount of work. For example, the system can allow HR teams to track personnel service requests and manage job candidates, help marketing departments control marketing campaigns and streamline marketing processes, and much more.
So, what other use cases of working with a customized JIRA can we offer you?
Jira is a perfect tool for improving your internal business processes and easily managing work-related procedures. Customizing JIRA, you will adapt the system to your needs and requirements and make the process of working with the software more reliable and smoother.
This way, the system will allow you to simplify the work of your employees and bring your business to success.
The Exposit team has a vast background in developing Atlassian solutions and helping our customers with all of their JIRA needs. Contact us if you are looking for custom business intelligence solutions driven by Atlassian experience.