Remote work has become the norm in our modern world: according to Gartner, Inc., 88% of the organizations worldwide allowed their employees to work from home during the COVID-19 pandemic.
Moreover, the statistics show that people are going to continue working from home: according to the Gartner report, remote workers will represent 30% of all employees worldwide by 2024.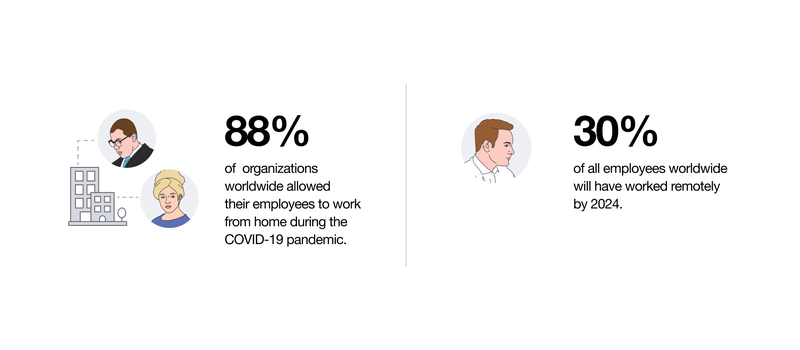 What are the benefits of a home office?
If you can allow your employees to work at home, it can bring your company a number of advantages:
Attracting and retaining employees
One of the biggest benefits of remote working is that employees appreciate it. The ability to work from home can be a great argument in favor of your company.  This way, you are showing your trust and increasing the loyalty of your employees.
Productivity growth
A study by Stanford University found a significant increase in the productivity of people who worked from home. Employees are less distracted during work: they can provide comfortable conditions for them personally and limit the noise level, which is difficult to achieve in open space.
Cost reduction
Remote-enabled companies can save money on some of the costs connected with office space, office supplies, furniture, and public utilities. According to Global Workplace Analytics, a single company can annually save $11,000 per year for every employee who works from home at least some of the time.
The possibility to hire the best specialists
Even in large cities, finding high-level professionals can be challenging, especially if we are talking about a narrow specialization. As a result, the right specialists may not be found, or their salary expectations may not match. When you open a job with the prospect of remote work, you can collaborate with talents from all over the world.
Positive Environmental Impact
According to the Inventory of U.S. Greenhouse Gas Emissions and Sinks: 1990–2018, about 30% of greenhouse gas emissions come from transportation. Employees who work at least part-time from home improve air quality and help fight global warming: Global Workplace Analytics found that 5 million permanent remote workers of the US prevent 3.6 million tons of greenhouse gas emissions per year.
What is the checklist for ensuring a strong workforce strategy in modern business conditions?
Adaptation
The first days of remote work are always stressful. Your employees need some time for testing new tools, asking questions to supervisors about important points, and adapting their working processes. Make sure all accounts, mail, assigned tasks, access to projects and documents are ready to start working remotely.
Necessary equipment
Make sure your employees have all tools to perform their responsibilities efficiently. At least, they will need a smartphone, laptop, or computer and stable access to the Internet. However, this list can be significantly expanded, depending on the tasks performed by an employee.
Cybersecurity
With the growing number of remote employees and the use of various cloud platforms, it is also necessary to ensure secure storage to protect the company's data from cyber-attacks.
Encouragement and emotional support
If you shift to remote work, it is especially important to identify stress, listen to employees' concerns, and empathize with them to support their mental health.
Management software
Convenient remote work management tools allow teams to set tasks and goals, track time or story points, cross out completed work, and assign deadlines and responsibilities for each task.
Software tools ensuring effective remote workforce management
Software tools provide your remote team with essential structure, visibility, and transparency. It allows managers to coordinate resources and helps your employees master their progress. What tools do you need to facilitate remote work?
Task managers
Remote teams need task managers to have a common workspace where they can create and assign tasks, communicate and analyze performance. What are the benefits of using task managers?
Systematization of processes: your remote workers can divide the project into tasks and subtasks, check the progress, and build a custom workflow.
Convenient planning using the calendar, Kanban board, and Gantt chart.
Tracking performance: you can create and analyze performance reports that can include information about the working hours of your employees, resources spent on the project, and project outcomes.
Time managers
Time managers are designed to track the time your remote team spends on projects and tasks. These tools allow you to monitor how efficiently your employees spend their working hours and help them improve their productivity.
Time trackers translate all received information into fully accurate timesheets. Based on the results, your employees can monitor their progress, and managers can more effectively coordinate teams to meet all deadlines.
At Exposit, we use Atlassian products with custom plugins to manage our tasks and the time of our employees. Thanks to plugins and a high level of customization, you can always adjust Jira to your corporate needs.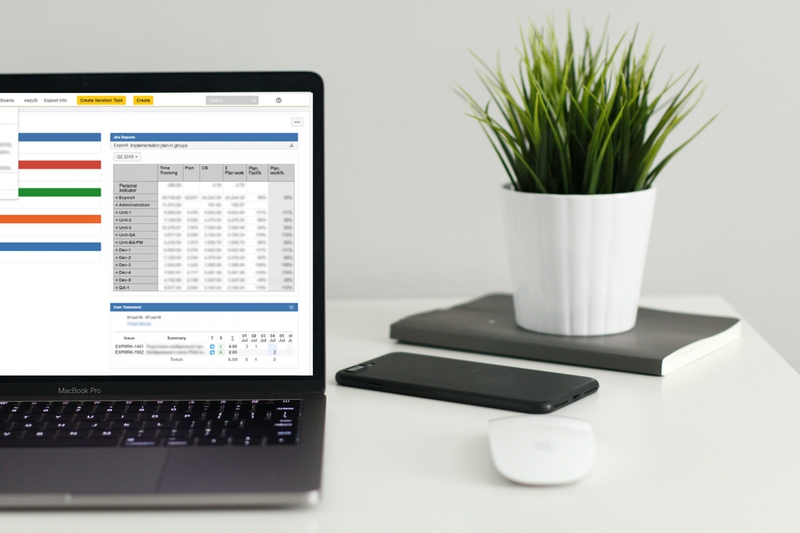 Communication and collaboration tools
Effective communication is the foundation of successful remote work in a team. Software solutions empowered with video streaming technologies allow you not only to provide a full-fledged joint interaction but also to share presentations, files and materials.
Today, one of the best examples of effective communication platforms is Zoom. However, professional IT providers can help you in designing a corporate collaboration platform from scratch: it will meet the specific needs of your company and provide more secure data transmission.
Data management tools
Shared workspaces help your remote team collect valuable information in one place. You can easily create documents, edit and share them with your team members.
What useful features do data management tools provide?
Structured storage of project documents;
Maintaining working materials like protocols, risks, open questions;
Regulating access to spaces and documents, depending on the employee role;
Informing participants about the rules, events, and plans.
Remote work has become the norm in the modern business world. The increasing number of remote teams has caused the active development of remote management software to manage teams and collaborate effectively.
Today, businesses can choose from a wide range of software tools that significantly optimize their business processes making remote workers' workflow easier and improving companies' outcomes.
At Exposit, we build custom software solutions that help our clients create comfortable working conditions for their remote employees. Contact us if you want to empower the shift to remote work with an effective Business Intelligence solution.