Project management is all about finding the best way to plan and execute your projects. Applying the right approach for controlling the creation of your app can simplify the entire development process, allowing you to get a more successful product. But how to choose the right way to coordinate your project?
5 steps to find the best Project Management
Project management is one of the most significant components of project development, which determines how your app design process will go. What should you do when choosing the right approach to working with projects?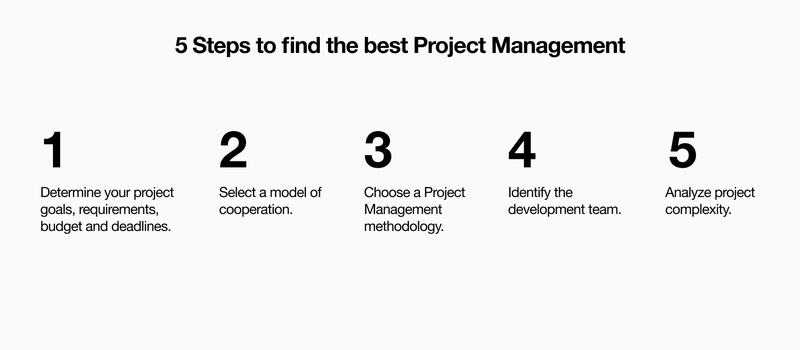 Determine your project goals, requirements, budget, and deadlines
When you start developing a mobile or web solution, you should define business goals and project requirements. This analysis will allow you to understand what features the development team should implement and how much time and money it will take.A clear description of the needs of your project will make it easier to determine how best to coordinate your project.At Exposit, we offer our clients to start the development of their future products with the discovery phase. During this period, our team defines the basic information about the project and documents all the collected data in an understandable and accessible way.This stage also allows us to identify potential risks and helps to gather the right team of specialists based on the selected programming languages and your project domain.
Select a model of cooperation
After defining the requirements, business goals, and budget, you can start choosing a cooperation model.Exposit offers two models of cooperation to achieve the most successful results:1. If you need specific specialists who will be fully concentrated on your projects, we recommend using the Development Team cooperation model.In this case, the project management and coordination of the development team will be carried out from your side. However, if we do not have such a specialist, we are happy to provide your team with our project manager.

2. For the development of a software solution from scratch or finalization of your project, we offer full-cycle Project Development using Time & Material or Fixed Price cooperation models.

Each of these models has its own advantages and is suitable for different types of projects. For example, if you choose the Development Team, you will get skilled engineers focused on the specific project and full control & full availability of the team.

If FP is a more convenient type of working for you, you will know the deadlines, budget, and project results in advance. Thanks to an accurate estimate, the development team will also minimize risks and will fix your product's bugs for free within 2 months.

T&M allows you to start the development process with partially defined requirements. Thus, you can gradually bring new features to your product and update the specification during the project.

Choose a Project Management methodology
Project Management Methodologies (PMMs) are a set of rules and processes that define how you coordinate a project. They help the project team find the best way to effectively plan and execute their projects.By following a specific methodology, teams are better able to do their work on time, in accordance with the budget and business needs.There are different types of software development methodologies. Each of them has its strengths and weaknesses and works effectively in different situations.Exposit can develop your software project using the most suitable methodology for you and your business. For example, our software engineers have working experience with sequentially structured Waterfall methodology to implement small and well-planned projects.

We also use Agile frameworks, including Scrum, Lean, Kanban, FDD, TDD, and others, for dynamic software ideas combining flexibility and productivity. However, if you want to take the best of both waterfall and agile methodologies, our team can offer you pay attention to the Hybrid approach.

Identify the development team
The size of the team directly affects the choice of the project manager. If the development team consists mainly of your in-house developers, it is better to give preference to your project manager.In this case, your specialists will be able to bring a good thread faster because they know the features and abilities of each developer better.If the team consists mainly of our employees or is a team of developers from different companies, our project managers can help you coordinate your project.Exposit specialists will help you unite the team and establish cooperation, which is also the key to product success.
Analyze project complexity
Determining the complexity of the project is an important indicator when choosing project management.The level of project complexity is influenced by such factors as the size of the project, the scope of work, the degree of uncertainty in the project, the interconnection of system elements, the number of stakeholders, etc.For example, if all of the above indicators show that your project is not characterized by increased complexity, you can start developing a new product without the participation of PMS.However, if your project is long-term and involves constant changes and updates, the project manager will be the person who can properly organize the work of your team throughout the entire project development cycle.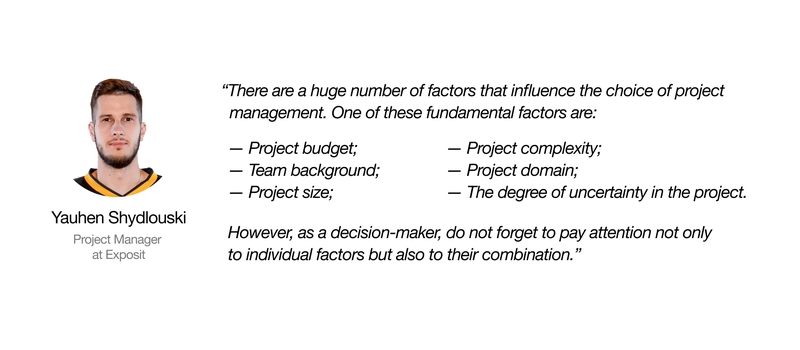 Every project requires a unique approach
When choosing project management, it is extremely important to understand that there is no universal solution that is suitable for everyone, even within the same industry or organization.
To choose the appropriate management approach for your project, you need to take into account such factors as project requirements, budget, collaboration model, development methodology, development strategy, and project complexity.
This analysis will help you find the right approach to your project and create a high-quality product that meets the needs and requirements of the market.
The Exposit team has extensive experience in project management for projects in more than 15 industries. We discuss your project in detail and help you to choose the right cooperation model and project management for your project.
Contact us to implement your business idea into reality with the help of the knowledge and experience of our skilled professionals.