Today, at times of rapid digital transformation, companies are searching for new innovative ways of solving their business needs in different industries. Every day decision-makers establish new partnerships with IT outsourcing companies as service providers and solution providers to optimize the budget and receive reliable IT services that are not available in-house.  
Some erroneously believe that traditional IT outsourcing companies as service providers and solution providers are the same things. Indeed, both of them involve getting services from outside organizations but encompass different levels of expertise and outcomes for achieving your initial goal. In this article, we outline the difference between service providers and solution providers to help you choose the right partner to guide you through your project development. 
Solution provider vs service provider
Traditional IT outsourcing firms usually provide defined IT services for solving specific tech tasks, rather than long-term digital transformation strategies. Outsourcing companies are good at performing tasks according to the technical requirement, not at searching for more efficient ways to run your business.      
Solution providers offer a more comprehensive approach to technology and typically suggest a range of Subject Matter Expert services allowing you to implement a complicated holistic project. In other words, a solution provider genuinely wants to see your entire business problem solved and a software solution bringing continuous value. 
Before taking any decision, which involves a third party, you need to ask yourself: are you able to hire employees in-house to deal with some repeating issues or you can outsource on a regular basis. Whether your business has the resources to function effectively in-house, or outsourcing to another company will improve your performance, a strategic approach is crucial in this case.   
What services does a traditional outsourcing company provide?
Traditional outsourcing is about managing relationships more than service-level agreements and delivering a project.  Companies often outsource as a way to lower costs, improve efficiency and gain speed. The underlying principle of any outsourcing company is to focus on a particular task can be done better, faster and cheaper rather than hiring a solution provider.   
If you consider traditional IT outsourcing to work with, find below how to distinguish an outsourcing company that will help you satisfy all your business needs.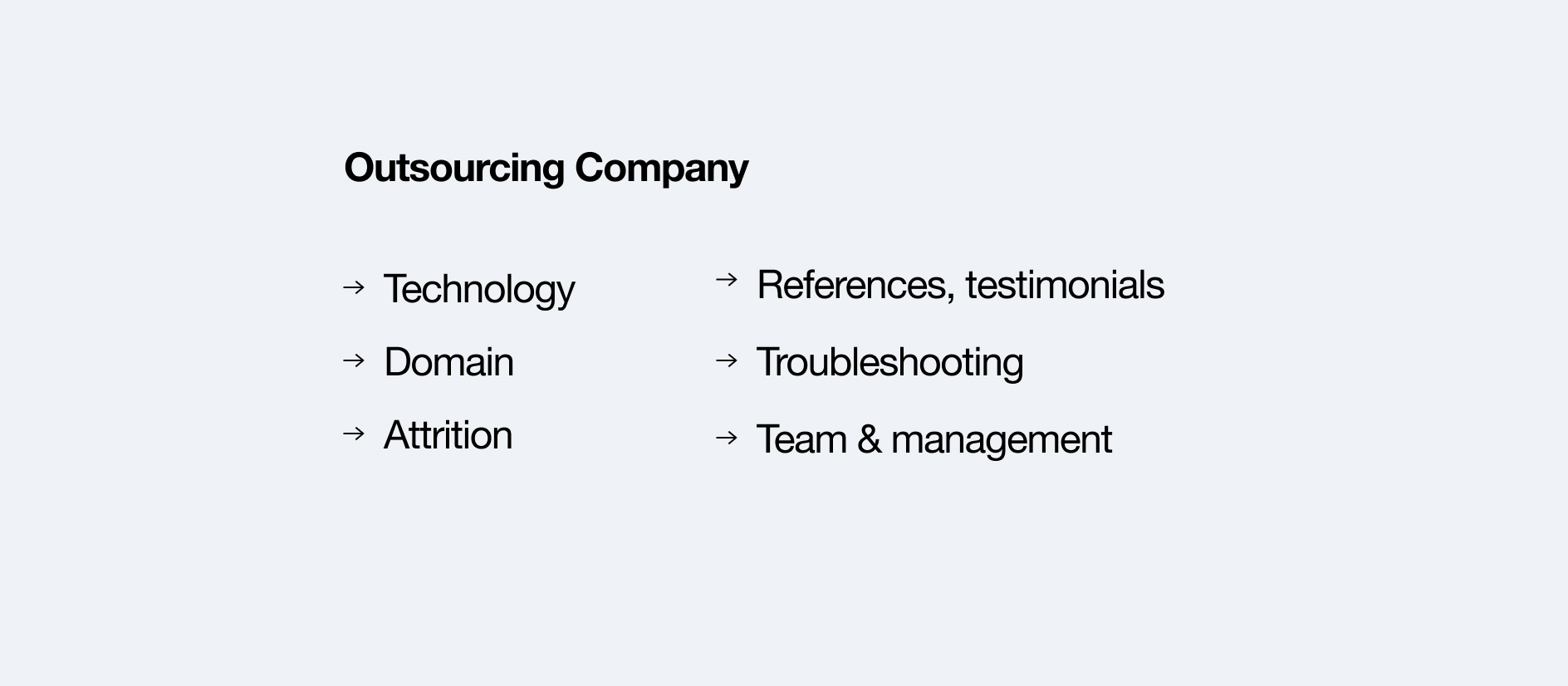 Technology

– the essence of outsourcing companies is that they provide dedicated teams of specialists matching the client's technology stack;

 

Domain

– understand the domain an outsourcing company works in. It may be a business or technology one; 

 

Attrition

– find out how the outsourcing company retains its clients;

 

References & Testimonials

– have a look at the company's references or testimonials the company worked with;

 

Troubleshooting

– see the examples of how an outsourcing company solved clients' problems raised during various processes;

 

Team

& M

anagement

– consult the certification of the team and certification standards of the company.

 
Now, let's see what a solution provider is about. 
How to read a solution provider?
The main difference from an outsourcing company is that a solution provider is considered to be an extra expert in his field, as it focuses on narrower areas of expertise. Here are the criteria to take into consideration when choosing a solution provider: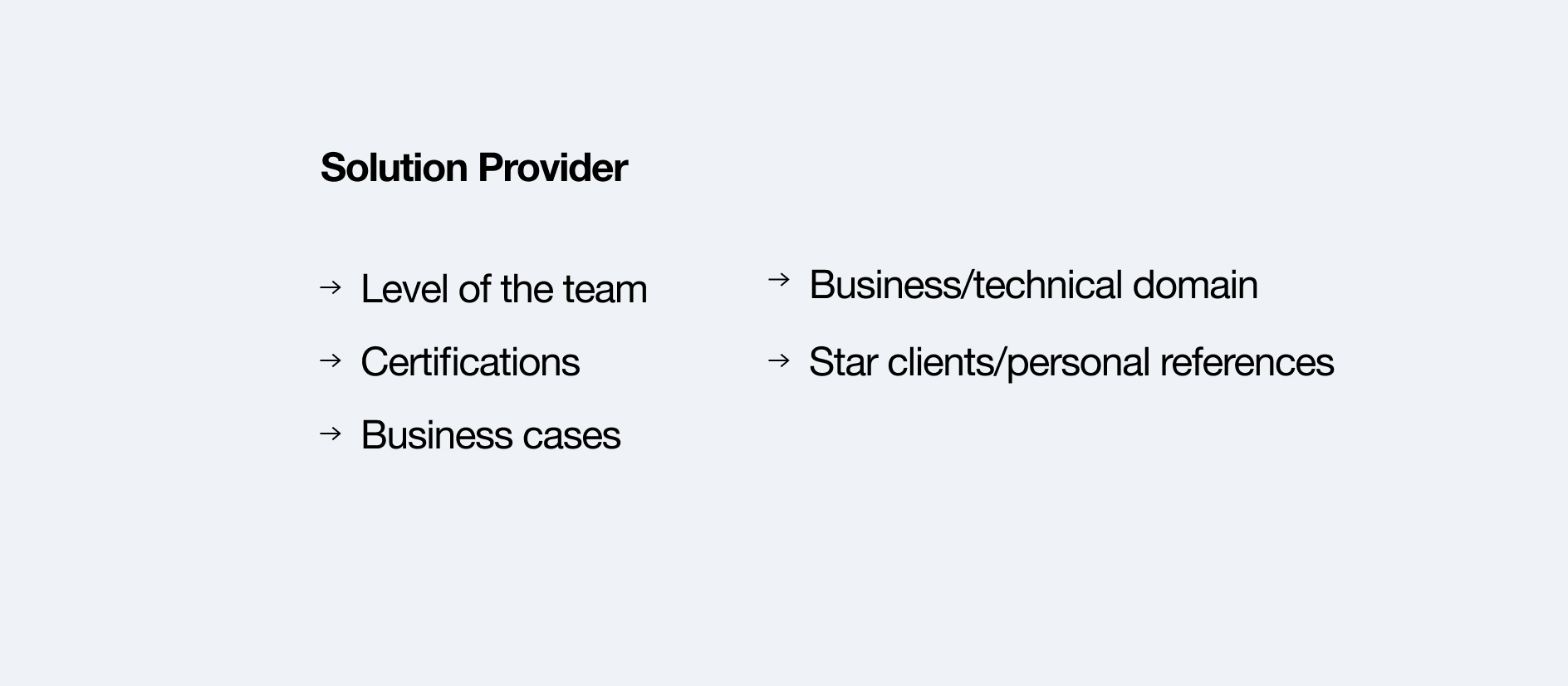 Business/technical domain

–

business-oriented or technical-oriented domains of the company are to be stated clearly;

 

Level of the team

–

the members of the team are highly skilled, due to the experience gained on other similar projects;

 

Certifications

–

the skills of the team are guaranteed by certification;

 

Business cases

–

pay attention

to

how a provider solved clients' business needs;

 

Star clients/personal references

–

star clients raise the prestige of the company.

 
To sum up, an outsourcing company will solve your day-to-day business needs, while a solution provider will implement a powerful strategic foundation for sustainable growth through technology. The services of solution providers will cost more, as they go far beyond simple break-fix support. They study your idea, give possible solutions and present a custom solution just for you. 
Exposit is ready to provide you with a solution
Choosing the right company is a complex decision that requires various considerations about your business, customers, unique needs, and budget. Since 2012 Exposit delivers technological expertise in computer vision, XR and healthcare. Proven experience in solving business needs, a transparent process of financial cooperation and experts from the required domain may be a good idea to contact us!