Today, companies use various methods of collecting and analyzing customer data to remain competitive. One of the ways to obtain useful information about your clients is to apply computer vision tools.
According to the RIS News' 2021 Retail Technology Study, 10% of merchandisers have already leveraged computer vision technology but, within the next 24 months, the number of retailers who implement the technology will increase by 6.7%. What benefits will they get?
Advantages of using computer vision in retail
There are several reasons why it is worth taking a closer look at computer vision. This technology offers retailers a wide range of benefits that favorably affect business operations and customer experience. How can CV technology help you?
Improve decision making
Using object detection, retailers can identify various data about customers and create a portrait of clients based on their purchases and activity in stores. It will help sellers understand what products are in high demand and, therefore, how properly control their inventory.
Optimize store assortment
Computer vision can also determine which products attract people's attention and create heat maps for stores. With the help of such heat maps, you will be able to place products in the most convenient places and increase your sales.
Increase security
Computer vision can be used to monitor retail stores, detect suspicious behavior, and prevent theft. Thus, this technology will help you increase the security of stores and improve your marketing strategies, increasing brand loyalty and attracting new customers.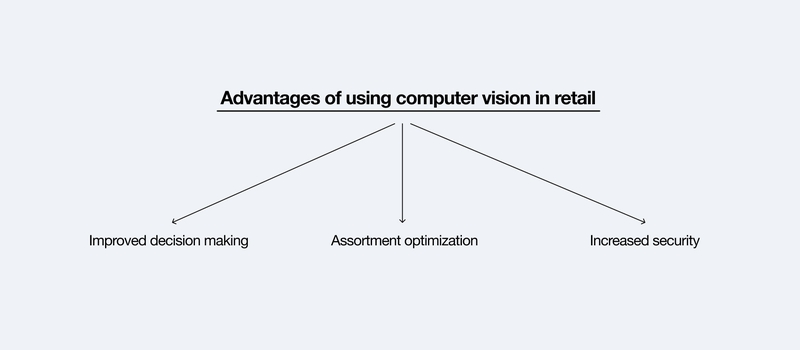 All of the above points indicate the importance of using computer vision in retail. However, one of the main challenges in computer vision-based customer analysis is collecting personal data respecting personal boundaries and GDPR.
Computer vision technology uses various methods to sanitize and anonymize sensitive visual data and, therefore, protect your clients' personal information. How can you get valuable data and maintain the confidentiality of your customers?
Computer vision use case: traffic analysis in malls
Together with the Exposit computer vision team, we performed R&D for a large shopping center: the team needed to receive data on traffic and identify the most popular areas in the building in order to conveniently calculate marketing indicators and improve advertising efficiency.
We formed and studied a hypothesis of creating a computer vision-based system that would analyze the visitors' flow using cameras located in a shopping center.
Then we identified 3 types of valuable data that can be provided by the combination of computer vision technologies and a video surveillance system, as well as benefits the client could get from it:
The number of visitors passing through the individual entry
Such data can be collected for each individual point and in total, with statistics of visits by time. With the help of traffic reports, our client can justify the costs of renting retail space and placing advertisements in different areas of the building, as well as evaluate the effectiveness of marketing activities. The analysis can also help to adjust the work schedule of employees depending on client traffic.
Gender and age analysis
Such analysis will help customers to better understand the target audience, use the most effective marketing strategies and launch successful promotions.
Visitor statistics
With the help of face recognition technology, it is possible to generate unique face hashes and identify specific customers. The algorithm won't collect photos of visitors: such data is usually stored in the customer base in the form of mathematical representation.However, it helps to track new and regular customers, the interests of regular visitors as well as use the client base for ensuring security: the system will help to identify people from the blacklist or suspicious people who are in the building.
In order to receive all this data and identify people, our engineers used Inception ResNet v2. Thanks to this convolutional neural network, we could not only get useful information but also preserve buyers' privacy.
The developed solution provides anonymization and pseudonymization of personal information: the computer vision system converts images of people into numerical representations, which are then processed and stored for further analysis.
It means that the solution doesn't store photos or videos of people and allows retailers to be sure that the collected data will not contain personal information about customers.
Thus, these measures allow the system to comply with the rules of the General Data Protection Regulation (GDPR) and preserve the personal boundaries of mall visitors.
After determining valuable types of data, we started to define system functionality. It included data visualization in the form of mall traffic heat maps, push notifications and data export in the most convenient format for the customer.
We also determined the stages and terms of the software solution development and implementation and carried out the analysis of competitors.
Providing actionable insights without violation of privacy
Computer vision allows you to automate the specific processes bringing competitive advantages to Retail, Healthcare, Manufacturing, Transportation, and other industries. By the way, this technology will help you both get valuable data and preserve clients' privacy.
Exposit engineers have enhanced experience in solving complex business tasks by implementing smart software platforms. Contact us to share your business needs and get effective software solutions driven by modern technologies.