Any good idea will not turn into an effective and competitive solution without the necessary investigation. That is why, if you want to create a successful and unique software product, you should pay attention to the Research & Development (R&D) stage.
What is Research & Development?
Research & Development is one of the key stages of creating new software solutions, which precedes the beginning of the development phase.
The concept of R&D is very vague and is interpreted by everyone in different ways: R&D can be performed by individual departments, companies specializing in research, or simply by a group of development teams.
However, despite these differences, the goal of all researchers is the same: R&D teams detect and analyze project information to create an enabling environment for the development of new and effective systems or improve the existing ones.
For example, that year, Alphabet, the parent company of Google, spent around €23.2 billion on research and development to create successful and competitive products.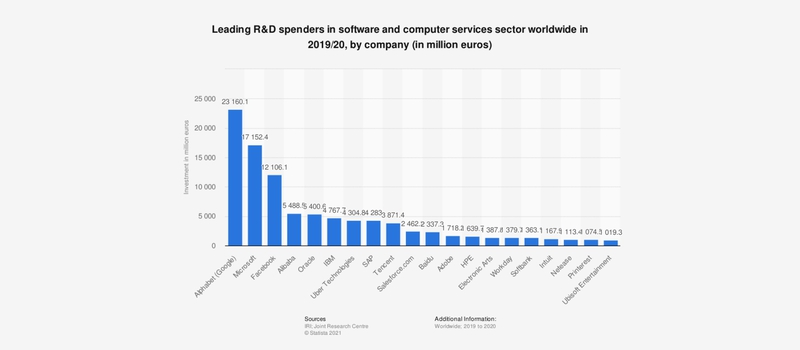 The R&D team considers many different aspects that can have an impact on the creation of your product. Specialists collect and analyze this information to optimize product development based on your wishes, budget limitations, and related risks.
In order to protect you from stiff penalties, the team also studies international standards and regulations that can impose restrictions on the development of your project.
R&D specialists also correctly record and formalize the product information so that it remains accurate and understandable for all primary and secondary stakeholders involved in the creation of the project.
After conducting a detailed study of the project idea, the team decides whether to implement the idea and what is the best way to do it.
If it is appropriate to implement the project, the collected information will help BA specialists to further study all the requirements in detail and will allow the development team to quickly start developing a solution.
By the way, if you decide to use the principles and methods of Continuous Integration and Deployment (CI / CD), the R&D process can continue throughout the project, thereby helping software development teams to easily and reliably implement changes in the product.
At Exposit, we performed R&D for one of the most popular music distribution platforms to expand its functionality. Our goal was to provide an opportunity not only to publish music on popular music distribution platforms but also to effectively broadcast live simultaneously on popular social networks.
To help the client realize the idea, our team studied business goals and identified possible problems in the implementation of the required functionality. We also reviewed popular ready-made streaming solutions to provide resource optimization and identify the most important selection criteria.
The result of our work was a prototype of a solution successfully presented to the client and his stakeholders.
One more example of performing R&D by our company is research for a large shopping center: the team needed to receive data on traffic and identify the most popular areas in the building to conveniently calculate marketing indicators and improve advertising efficiency.
First of all, we formed a hypothesis to create a computer vision system that would analyze the flow of visitors using cameras located in a shopping center and began to study it.
The Exposit team identified types of valuable data that can be provided by the platform, benefits the client could get from it, and system functionality. We also determined the stages and terms of the software solution development and implementation and carried out the analysis of competitors.
How can R&D help you in developing your software product?
R&D is a fundamental operation that will help you get the best results. What are the reasons for companies to invest in the R&D stage?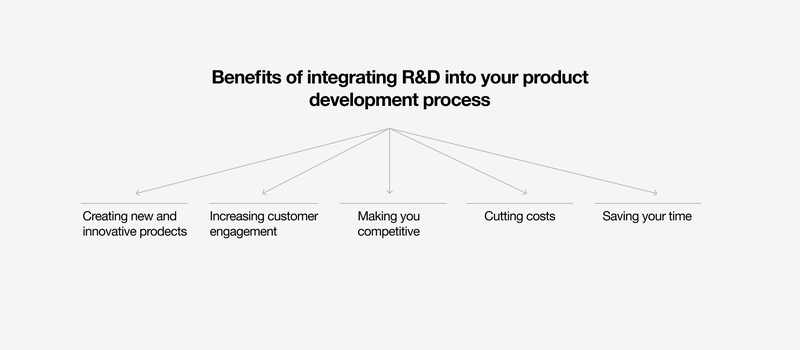 Creating new and innovative products
The knowledge gained during the Research & Development phase is used to develop new solutions, improve and modify existing products, services, internal and external business processes.R&D researchers track your current industry trends and help you implement them into your app to keep your business up-to-date. The team also always takes into account future trends and your possible requirements to create forward-looking products.
Increasing customer engagement
Research & Development pays special attention to studying your potential customers. Experts analyze users in a variety of ways:1. Qualitative research: one-on-one interview, focus groups, ethnographic research, etc.;
2. Quantitative research: experiment, survey, observation, etc.The choice of user research approach will depend on the nature of your product and the problem it solves.This step will help you realize the goals, needs, desires, and preferences of your users. Thus, you can understand what app features are important, which ones need to be added, and which ones can be removed.
Making you competitive
To create a successful product, the R&D team conducts a thorough analysis of your competitors. Researchers examine services and products that already exist in the market, compare them, and identify weaknesses.This analysis allows you to determine the directions for creating a unique product that will distinguish you from other companies in our industry and increase your market share.
Cutting costs
Including the R&D phase in your product development plan allows you to get the results of the extensive evaluation at an early stage. Researchers help to form product requirements, analyze the development team, summarize data about your business, and find new methods of work.Based on the obtained data, experts analyze each development proposal and check whether it is worth spending the budget on them. This approach allows you to get the optimization and avoid unnecessary expenses.
Saving your time
The R&D stage is not a quick process, it takes time and patience. However, all the data obtained and analyzed will help the team immediately move to the right development path, thereby avoiding wasting time on unnecessary tasks and reducing the time to create a product.
The R&D phase is the primary stage that helps businesses explore their ideas and find the best ways to implement them. Research & Development teams take into account a variety of elements to create a product that will be distinguished by its uniqueness, meet all your requirements and the needs of your customers.
As a result of this analysis, you get a lot of competitive advantages that will help you take a leading position in the market.
The Exposit R&D team can help you identify the best technology opportunities for your project and create a unique vision of your business idea. Contact us to start Research & Development and bring a more powerful and successful product to market faster and at a lower cost.