Brand identity is the collection of all brand elements as name, corporate colours, tone, typography, team membership, key working principles, etc. Companies create brand identity to portray the right image of their products or services to the consumer. Brand identity makes you instantly recognizable.
To become a brand is a continuous process taking lots of time and effort. Founded in 2012, taken part in 130+ projects and having 20+ years of key employees' expertise, Exposit has helped a great number of companies to increase their profits and productivity by translating business needs into custom software solutions. Hence, we want you to get acquainted with our brand history.
What is hidden behind our brand's identity?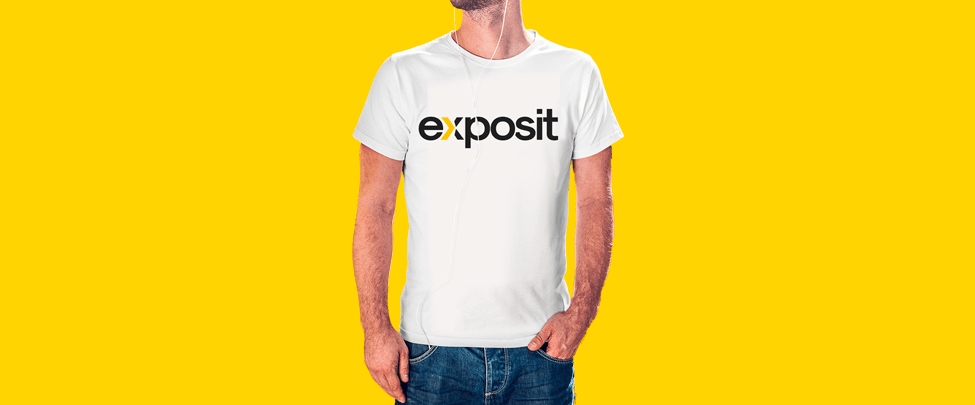 NAME
The word "Exposit" represents itself many different words that can be combined into one. While brainstorming and developing our name, we came to such a conclusion: why not to shorten and combine different words that lay as key principles of our team and expertise? Let's have a look at our scheme:
What do we do? Exposit = explore + expose + express + expound + examine + exchange + execute + IT
How do we work? Exposit = expressive + exclusive + excellent + expert + IT
What team do we have?
E – experienced, X – eXcellent, P – persistent, O – opinionated, S – superb, I – intelligent, T – trendy, talented and tenacious.
COLOURS
According to our Brand Book, we have 4 major colours: main yellow, dark grey, light grey and medium blue/grey. Why have we chosen exactly these colours?
Yellow: the colour of energy, positiveness and cheerfulness. This is the color symbolizing youth and encouragement. It increases motivation and level of creativity, stimulates brain activity, has a positive effect on the nervous system, and the ability to communicate. We try to create exactly such an atmosphere in our company, where people are energized and have lots of ideas where competition becomes not a rat-race but a community work and improvement of oneself.
Grey: the colour of reliability, safety, common sense and intelligence. Grey is a neutral color and treated calmly. It doesn't cause any strong emotions, doesn't distract from important matters. Many successful business brands often choose it as a demonstration of their professionalism and authority. While yellow is the colour of our team, grey is the colour of our deep expertise.
LOGO
Take a look at our logo. Do you see this little arrow in the middle of the letter "X"? Exposit is a future-oriented company, which offers the most suitable and latest technologies to create Hi-Tech solutions. The arrow denotes itself the movement and speed towards the future according to our specialization and direction on the IT market. We transform obsolete and unfashionable processes or projects into modern and fresh ones with a wide orientation on their future implementation. This arrow symbolizes transformation, constant update and growth. We strive for new opportunities, improvements, sustainable development and superiority.
PRINCIPLES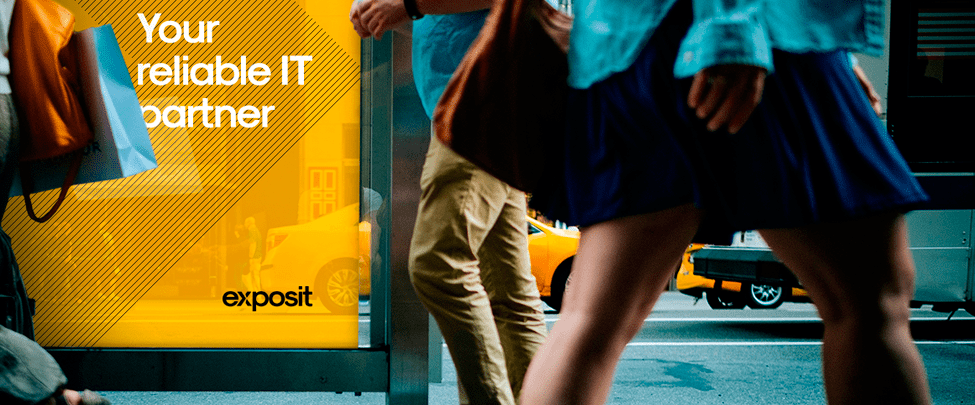 Our brand influences 4 pillars of our work:
People. For every business it is highly important to leave a lasting first impression, which can communicate a positive value upon people. We always check the industry changes and gain skills in new technological trends.
Process. To have an image of a trusted brand, we respond fast to customers' requests thanks to well-balanced production and administrative processes. Exposit adjusts to the working environment and help the processes run fast while responding to administrative requests.
Expertise. While setting the position on the market, our brand also influences our expertise. Such a fast-growing company cannot specialize only in one sphere. We constantly extend our expertise in more than 15 industries including Media Management Enterprise systems, Atlassian customization and plugins, FinTech and InsurTech, Energy, Telecom, e-Learning and introduce other kind of it.
Mobility. A brand that is not mobile cannot exist in the international trading world. Having proved our brand abroad, we easily adapt to customer's request, reach their team, provide consultation services and develop business relationships.
You won't order SEO services to a company that does not appear in the top of Google; or it will raise doubts to entrust business processes to a specialist who hasn't dealt with management. Being on the IT market for 6 years, we have learnt that we need to be attentive to how potential and current customers see Exposit, build a beautiful story of our brand and reach our exceptional identity.