Today, more than 50% of all known games are developed using Unity. This technology has become a good tool for creating not only entertaining and interactive platforms but also those aimed at educating users.
How did Unity manage to win the hearts of millions of users, and why should you pay attention to this engine?
Unity is a set of software tools, APIs, and packages designed to create mobile, web, or desktop applications.
This technology creates a favorable environment for creating exciting games while reducing the time, effort, and cost of content development.
Using Unity in the e-learning industry allows you to create interactive scenarios that not only give pleasure to users but also are effective learning tools.
What advantages can Unity bring to your educational platform?
According to Unity CEO John Riccitiello, more than half of all mobile games are built in Unity. Why is this technology so popular?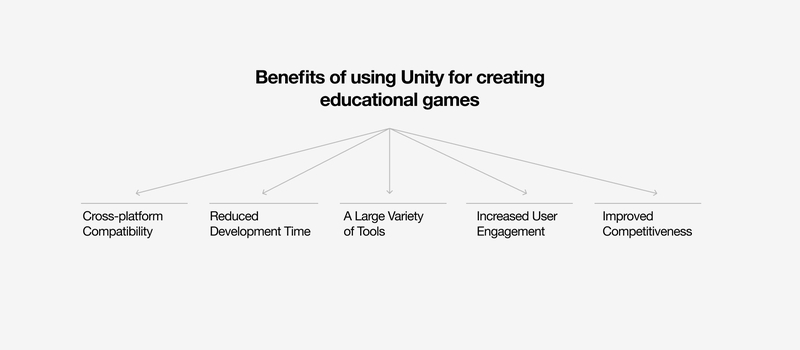 Cross-platform Compatibility
One of the key advantages of Unity is that it is cross-platform. It means that you can develop your game for your dreamed platform, including Windows, Linux, WebGL, Android, iOS, PlayStation 4, tvOS, Xbox One, Stadia, Oculus Rift, Magic Leap, and many others.It also allows you to build your application once and then deploy it across more than 20 platforms to captivate audiences across formats.This feature is especially essential for education and training systems: today, people expect to access the learning experience anytime and anywhere.
Reduced Development Time
Unity also provides development teams with a large variety of tools that can help you develop your educational game more quickly and efficiently, such as add-ons, templates, textures, 2D or 3D models, animations, music, lighting, and sounds.For instance, Unity offers many placeholder assets that allow developers to easily create prototypes and perform iterations at a fast pace.
A Large Variety of Tools
Unity provides a large number of tools to help you implement all your creative plans and develop outstanding visual products. For example, with the help of Unity, you can create 2D, 3D, and VR games with beautiful visual effects.Unity also allows you to make the lighting of your educational game unified and coherent. This effect will reflect the parameters of the real world, which, in turn, will increase the trust and interest of users in your product.
Increased User Engagement
The use of Unity games as part of teaching helps to establish a favorable atmosphere around the necessary topic and create a positive attitude to learning.By playing these games, students become more motivated, pay more attention to studying, and start actively participating in the implementation of assigned tasks.By the way, the ability to create visual effects for your application allows you to increase the involvement of customers in the created context and give them an unforgettable experience of using the product.
Improved Competitiveness
One of the main advantages of using Unity is that you will get a successful and unique gaming product in the end. Unity technology allows you to create a system that will distinguish you from your competitors in our industry and increase your market share.
Study Platform: Unity use case
A great example of using Unity technology is Study Platform, the interactive game for elementary school students delivered by Exposit from scratch.
Study Platform is a series of cartoons on the educational web platform that helps users playfully learn Mathematics. Each episode has its storyline where a hero needs to solve a math task.
There are several interactive mathematical tasks, including examples, equations, etc., inside each cartoon. Cartoons are devoted to various topics of the same complexity, such as fractions, multiplication, etc.
This approach is ideal for young pupils who want to improve their knowledge in the field of mathematics. The platform helps businesses acquire new interested users who will be happy to use the system and recommend it for upgrading skills.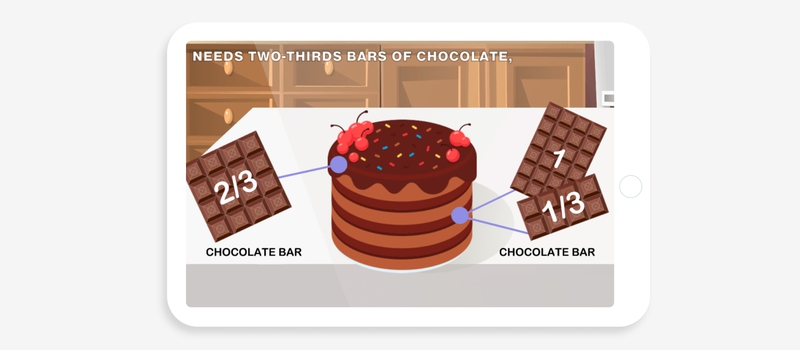 Thus, Unity provides a wide range of opportunities for developing creative educational games.
In addition, the cross-platform nature of this technology helps to provide users with convenience and brings a competitive advantage to your system.
All these advantages will help you enhance data understanding and increase user engagement.
Exposit Unity team has enhanced experience in building engaging educational games that differ from competitors in their high quality and uniqueness. Contact us if you need to develop an effective eLearning game from scratch and immerse your users in the most engaging educational context.