Remote and hybrid forms of work make distributed IT teams extremely popular for companies to cooperate with. This approach is guided by a desire to gather teams of the best in their occupation specialists for a project to achieve the highest quality outcome.
However, decision-makers often do not consider the fact that in this case all of their team members will belong to different IT providers that can cause a number of cooperation and communication challenges. Why is it better to work with a software development team from one company?
Stay focused on your project goals, not on recruiting
A dedicated team is a group of skilled IT experts who work on the implementation of your project. Forming these teams, companies help you concentrate on implementing your ideas and not waste time on hiring specialists and analyzing their competence.
Based on the necessary technological stack and the required level of experience, the IT company provides you with a dedicated team whose quality of skills and size best matches the given requirements. It usually consists of a project manager, a business analyst, software engineers, QA specialists, UI/UX designers.
A development team will be easily integrated into your business strategy to bring all your ideas to life. You can also have the possibility to manage the team and be always aware of all the steps of your idea implementation.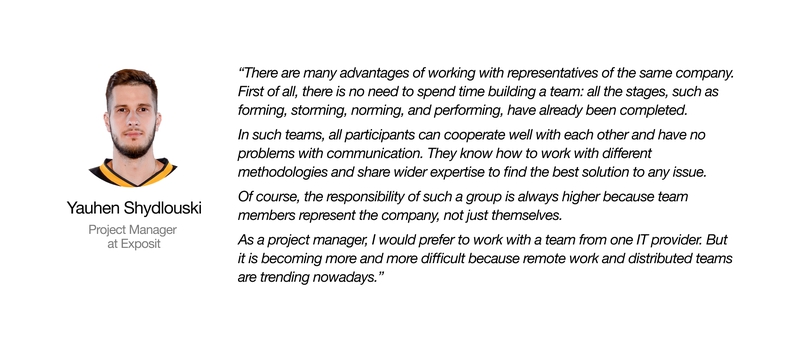 What are the advantages of development teams from one company?
Being an experienced player in the IT market, Exposit understands the benefits of collaborating with experts from the same company. So, why is it better to work with a complete development team than with dedicated specialists from different companies?
Less time spent on hiring specialists
According to Glassdoor Economic Research, the average time to hire a software developer is around 41 days. Before you start working with dedicated developers, you need to study the resumes of all potential candidates in detail and can conduct interviews with them.The process of employing a team of professionals from one IT partner will help you avoid all these organizational difficulties and, accordingly, save you time and money.
Faster onboarding
A complete team of one software development provider is a group of formed processionals who have already worked together and found their way to interact with each other.Familiar specialists can easier adapt to new conditions and are more quickly involved in the work process. This approach helps you complete the project on time and meet the budget.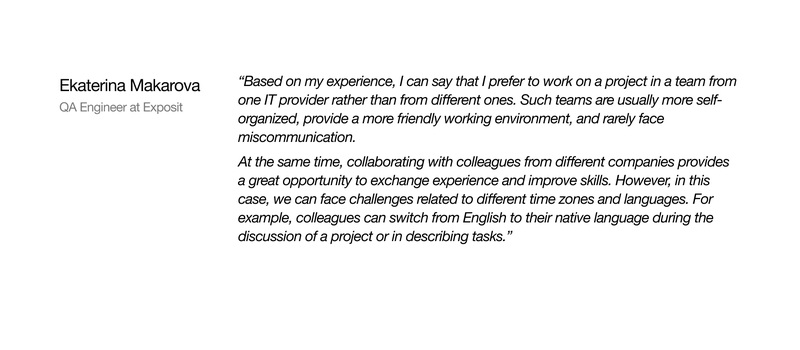 Better teamwork
A familiar team helps professionals work well together, feeling mutual understanding and support. In addition, such teams are easy to manage because all the processes of working with them are already well organized and documented.This approach makes the project creation process even more transparent, allowing team members to respond in a timely manner to any emerging challenges.
Boosted expertise
If your team is experienced, it is prepared to work on different methodologies, such as Kanban, Scrum, Waterfall, so you can save time on training specialists to work on these methodologies.Thanks to the knowledge-sharing culture, your group of experts from the same IT provider will also be open to frequent and open communication, which increases the sense of trust and camaraderie. This approach facilitates an easy exchange of views, which can lead to more creativity and new ideas for your project.
Strong work ethic
Professionals from the same company can demonstrate a cohesive team spirit that is consistent with the ethics of the chosen IT provider.This way, team members trust their colleagues, which provides a sense of security and promotes open communication. The team spirit that can be created through teamwork and cohesion also promotes attentiveness to one another and the avoidance of conflicts.
The strength of each member is the team
Working with a complete team from one IT provider has many advantages that can help you successfully implement your ideas with minimal time expense.
When employees from the same company participate in a project together, they inevitably exchange new ideas, experiences, and support. It allows employees to communicate effectively and bring additional value to your project.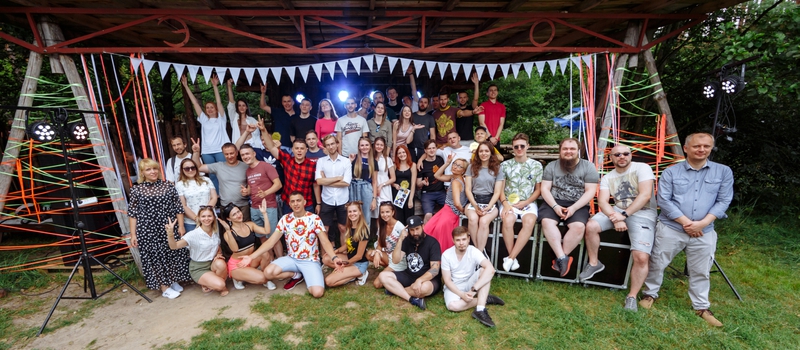 Exposit provides businesses with well-knitted teams of professionals who help them achieve maximum results. Working with us, you can find specialists in one place and do not need to spend time communicating with third-party developers and managers.
Contact us to discuss the details and start the process of implementing your idea!