Computer Vision App: Wizart
Computer Vision app for visualizing finishing materials and creating interior designs.
Wizart is a neural network-based computer vision and augmented reality solution for visualizing finishing materials and creating interior design. The product provides customers with a unique opportunity to try out wallpapers, painting, and flooring in their home before purchasing.
You can instantly see new materials in your interior using a simple photo: you just turn on a phone camera, choose a suitable type and material and get a photorealistic result preserving the perspectives, scale, and shadows. Wizart supports a clear and really good business model – selling people real stuff, once they've seen it virtually in their room.
Customer goal
Most people don't know how a given roll of wallpaper or the paint color will look like in their rooms before purchasing, whether it will match other materials, decor, furniture and, so on. That is why we decided to create a Computer Vision Interior Assistant that addresses the imagination gap challenge and helps a retail salesperson boost sales, by making customers satisfied with their choice.
Solution
Exposit developers with enhanced Machine Learning experience took part in the development of the own product Wizart including AI-driven iOS application and Web application that can be easily integrated with an E-Commerce website. Together we created a solution that uses a neural network to show customers new interior design ideas in just a few clicks.
After receiving a photo, the application recognizes the ceiling, floor, furnishings and decorations. Then, users have a chance to apply their favorite finishing materials options on the photo and the existing materials are replaced by a new choice. Users can try different types and colours until they satisfied with the results and finished the room repair. We also added an Augmented Reality mode designed for more accurate overlay.
To make the application run according to the algorithm, the following features were implemented:
Visualization tool for previewing how rooms look in different designs;
Preserving the shadows, scale and perspectives of the room;
Distinguishing elements like pillars, wall niches, arches etc.
A set of finishing materials options available including colours, textures and geometric patterns;
The ability to work with design templates;
Eventually, the ability to save the final design for future reference and share it with friends.
Integration options:
A plug-in for E-Commerce websites that allows working with app as a with regular online store;
A workspace or self-service terminal for the offline store;
At the end of the project, we developed an iOS mobile application with a working algorithm and  a web application embedded in E-Commerce websites. After the project completion, Wizart became a separated company bringing competitive advantages to retailers and unleashing customer's creativity.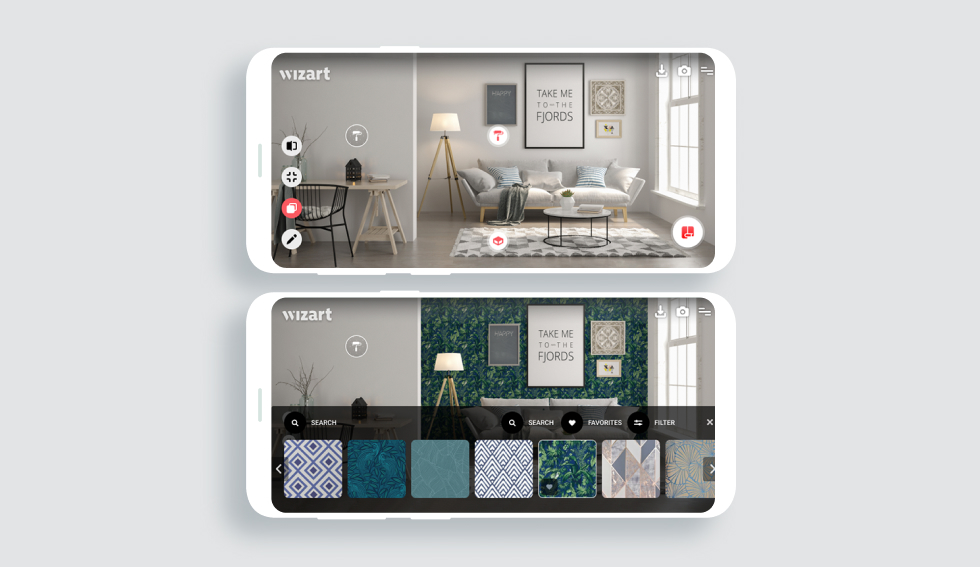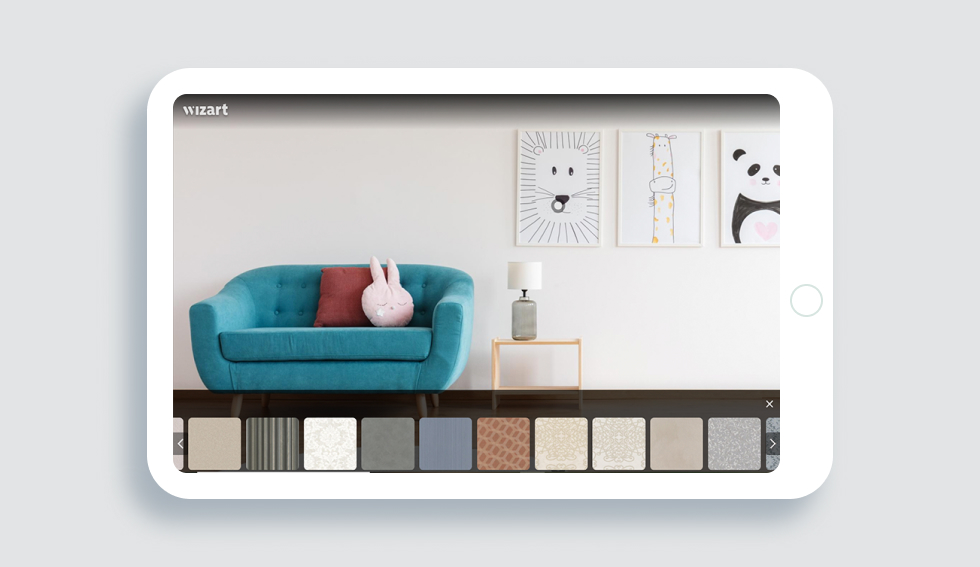 Technologies used:
Swift
Python
Keras
Tensorflow
CoreML
Numpy
cv2
OpenCV
ARkit
Docker