Media Streaming Solution: Football Coaching Software
Training system with game video capture, transformation and playback capabilities.
A football training system providing players, coaches, and support staff with a set of tools to effectively manage team training, events, and game execution by means of tagged video from cameras.
Customer goal
Sport team managers are always looking for new ways to increase the efficiency of a game organization to get the best possible results. The development of new game strategies often requires a resource-intensive manual analysis that may not always give insights on every important detail and fully improve game plans.
Our customer had an idea of a software solution designed to simplify the analysis of the game and quickly respond to the current situation on the field/court. The Exposit Team developed desktop and mobile Media Streaming applications addressing the needs of players, coaches, and support staff.
Solution
The Exposit team created a Media Streaming solution designed for football players, coaches, and support staff to effectively manage and analyze training and games using one platform. MacOS desktop and iOS mobile applications provide live video streaming, video tagging, transformation, and playback capabilities to increase the efficiency of game strategies in real-time.
The system is designed to provide game management, tags management, and video management features. Users can create projects for new games and manage all related data including tagged videos from live cameras using the easy folder structure which syncs between multiple devices. Playback capabilities provide access to the previously recorded video and allow browsing it by using the timeline. You can also "jump" to specific video fragments divided by tags to better understand context or conduct deeper analysis.
Access to the system on multiple platforms including mobile (IOS, OSX and cloud services) allows players, coaches, and support staff to conveniently use the analyzing tools during the games and training process. Development of the Football Trainer Media Streaming solution allowed a sports team to optimize workflow and increase the efficiency of the game strategies.
Features:
Sending live and on‐demand videos from cameras to iPad and Mac with HTTP Live Streaming (HLS) technology;
Capturing, playing back video in 10 Bit HDMI and analog video editing in SD and HD using BlackMagic Design Intensity Shuttle;
Adding the tags (markers of the important match moments) to the video by means of drag & drop and dividing by them into the video segments;
Video capturing and playback management.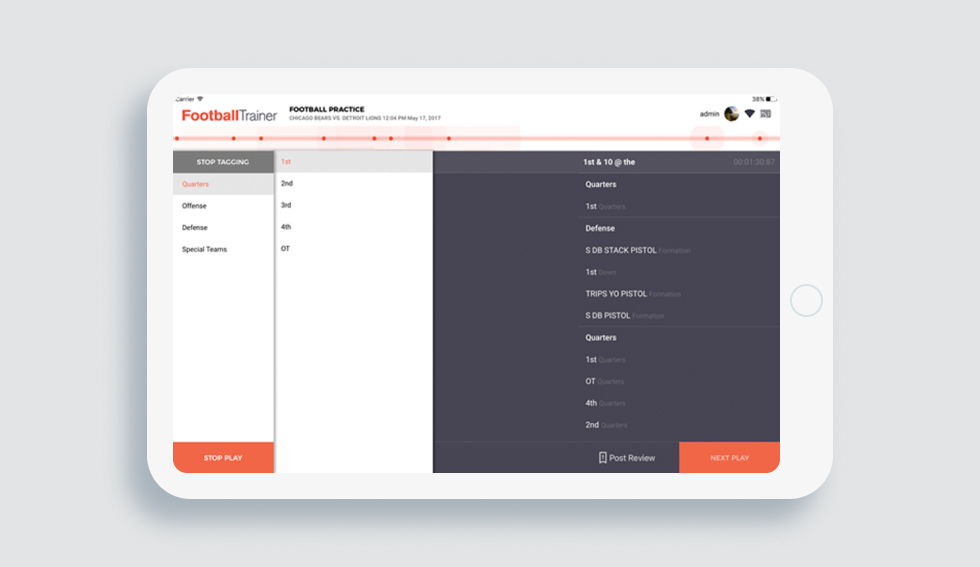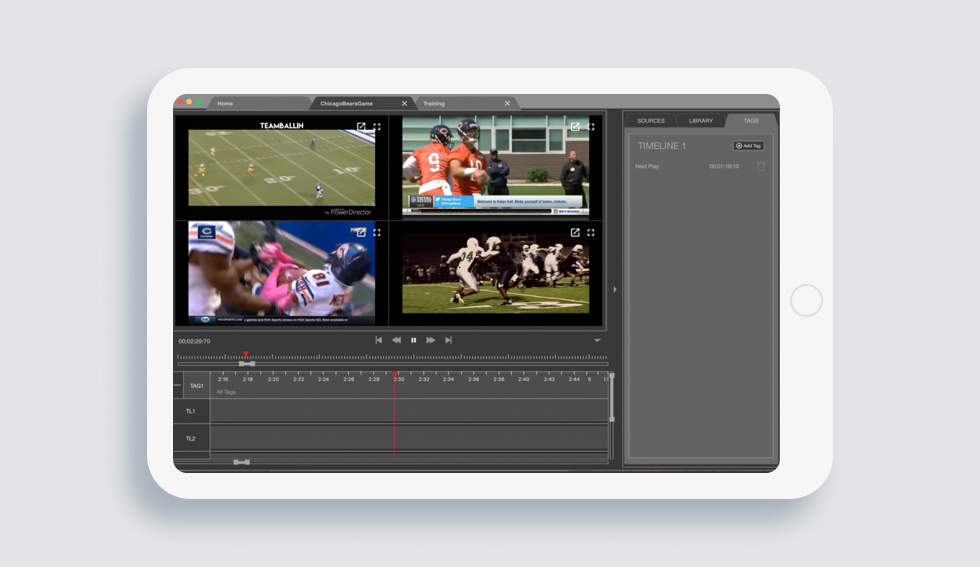 Technologies used:
Tagging App for iPad:
Swift 3
Cocoa Framework
CoreData
Cocoa Pods
Socket.IO
SpriteKit
Gloss
Fabric
Crashlitics
Work Station for MacOS:
Swift 3
AVFoundation
CoreMedia
CoreData (Magical Record)
Alamofire (REST)
Socket.IO
Fabric
Crashlitics
Playback for iPad:
CoreData
AVFoundation
Alamofire (REST)
Socket.IO
Fabric
Crashlitics
Gloss
Transmitter for MacOS:
Alamofire
HTTP Live Streaming
Socket.IO
DeckLink framework
Fabric
Crashlitics
Backend technologies:
Java 8
Spring
Spring REST
Spring OAuth2
WebSockets (Socket.IO)
MySQL
JPA/Hibernate
HTTP Live Streaming
FFmpeg
Swagger