Computer vision on the healthcare industry
Computer vision technology has immense potential to transform the healthcare industry by enhancing patient care and clinical outcomes. By leveraging machine learning and image processing algorithms, computer vision systems can aid medical professionals in detecting diseases, analyzing medical images, and monitoring patient health. The technology can be used for automated diagnostic tests, real-time monitoring of patients, and improving surgical outcomes. Additionally, computer vision applications can help healthcare providers to streamline their workflows, reduce diagnostic errors, and improve patient safety.
Today, the healthcare industry is actively involved in the process of digital transformation and implementing innovative technologies. According to Business Wire, the global digital health market is expected to grow from $183.30 billion in 2020 to $201.24 billion in 2021 at a compound annual growth rate (CAGR) of 9.79%.
Computer Vision (CV) is one of such tools that can help healthcare professionals provide better medical care and make medicine cheaper and more accessible to patients.
What is the impact of Computer Vision on the healthcare industry?
Computer Vision is an area of Artificial Intelligence that helps to understand and analyze images and video. CV solutions are based on intelligent computer algorithms that can train machines to see the visual world and provide valuable insights.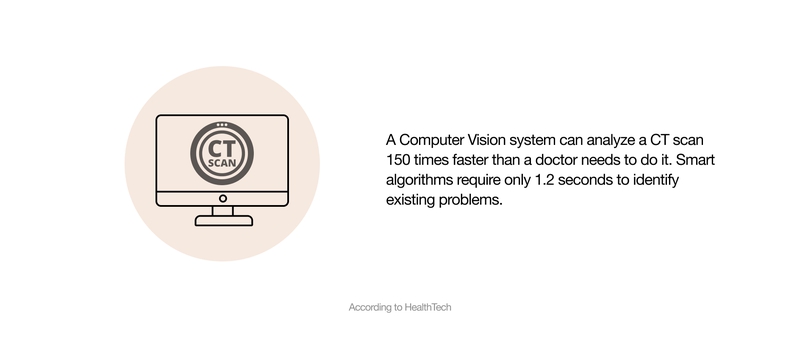 The Engineer researchers estimate that image information accounts for about 90% of all health data. It means that the use of Computer Vision algorithms in the healthcare industry can open up many opportunities to improve the efficiency of medical personnel and improve patient care.
Automating processes based on image recognition will also reduce the need for human involvement to perform routine tasks. It means that this approach will help eliminate errors associated with fatigue and inattention of doctors and allow medical staff to focus on more complex problems.
How can you use Computer Vision in healthcare?
Today, Computer Vision is deployed in a wide variety of medical domains and is constantly making significant changes in healthcare. What are the use cases of CV in healthcare?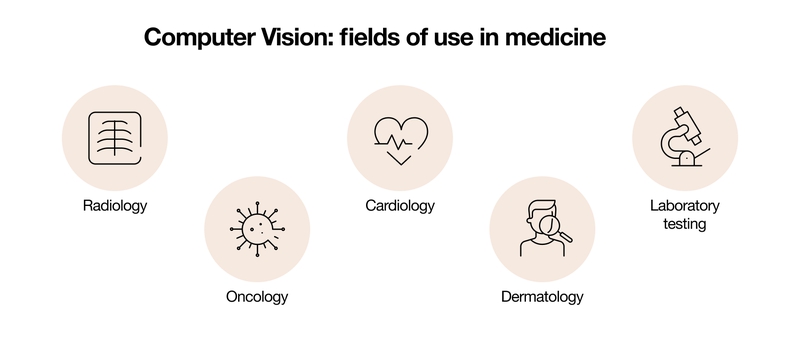 Finding organ damage
Imaging algorithms are used to detect abnormalities or damage to organs. Computer Vision identifies fractures, dislocations, soft tissue injuries and allows medical professionals to quickly and effectively relieve patients from pain.Solutions based on Computer Vision algorithms expand the capabilities of radiologists and make the interpretation of medical images cheaper, faster, and more accurate. By the way, this approach is much safer for patients because it limits radiation exposure.
Identification of oncology
Algorithms for analyzing medical images are very sensitive and can help healthcare professionals identify cancerous cells and tumors at the earliest stages. Breast cancer, lung cancer, prostate cancer, and other malignancies can be detected by computer diagnostics.Such virtual biopsies are distinguished by their accuracy, cost-effectiveness, convenience for patients, and time to get results. The use of CV algorithms increases survival and offers patients the best chance of recovery.
Analysis of heart diseases
In cardiology, medical specialists can use Computer Vision techniques to:1. Perform automated segmentation of magnetic resonance imaging (MRI), positron emission tomography (PET), single-photon emission computed tomography (SPECT), and ultrasound (US) scans;
2. Analyze cardiac images;
3. Make predictions about the development of heart disease.Imaging algorithms allow you to diagnose cardiac pathology and anomaly detection in time, as well as develop new treatment methods.In addition, Computer Vision systems play an important role in cardiology education. With the help of visualization tools, the process of explaining procedures related to surgery is easier and more understandable.One of the examples of the Computer Vision implementation is a cardiology platform for ECG digitization to provide a convenient exchange of information and professional experience between cardiologists.This software solution can digitalize a graphical scanned ECG into a digital data storage EDF format without losing any diagnostic information.

Thus, the platform helps doctors easily exchange information about heart examinations in case of need for recommendations from colleagues, additional automatic or manual data analysis.

Examination of dermatological problems
High-precision computer diagnostic systems analyze the patient's skin condition and thus help doctors make better decisions.Computerized skin image analysis is used to ensure personalized skincare, including recommendations for makeup, creams, and face gels. Computer Vision is also able to detect skin diseases and provide treatment options.
Laboratory testing
Computer Vision algorithms are also used for blood analysis, tissue cell evaluation, and other laboratory tests. In order to conduct such an analysis, medical specialists take pictures using a specially designed camera that is attached to a conventional microscope.Based on Computer Vision technology, the system examines the resulting photos and automatically detects certain anomalies in the blood samples.This kind of automated image analysis allows doctors to quickly perform laboratory tests and create a better picture of a person's health.
Computer Vision is gaining momentum
Today, you can use CV image analysis in various fields of medicine, which brings undoubted advantages to patients and medical specialists.
Computer Vision improves the accuracy and quality of medical research, helps doctors get their work done faster, and reduces hospital costs. In addition, these technologies are constantly being improved, which will lead to new opportunities for the use of Computer Vision and, as a result, to better medical care.
The Exposit team develops custom Computer Vision solutions, creating intelligent algorithms for advanced image and video analysis from scratch. Contact us to implement your ideas into a smart Healthcare solution that will allow you to see more.