As digital transformation gains momentum every year, Enterprises follow this strategy, experiencing harmonious growth and receiving a number of benefits. So, what digital transformation trends will dominate in 2022?
Digital Transformation Trends 2022
The Exposit team has accumulated information about the rapidly growing trends of digital transformation for Enterprises in this article. You may already know some of these tendencies, but they will definitely benefit your business in 2022. So, what should you pay attention to next year?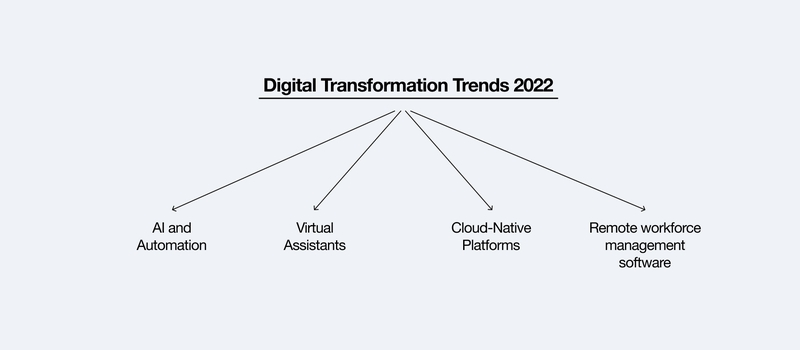 AI and Automation
Every day the number of data is growing exponentially: according to Statista, it is expected that the total enterprise data volume will go to 2.02 petabytes in 2022. AI systems can manage and regulate such large volumes of information and help solve problems better, faster, and on a larger scale.
We expect AI-based enterprise applications to become even more useful and reliable in 2022. It means that businesses from various fields will be able to apply these systems to solve complex problems and business tasks.
AI-powered applications facilitate automation allowing your employees to speed up processes and therefore increase profit.
Moreover, AI, Big Data, and Machine Learning approaches are used in creating data fabrics and organizing optimal data management algorithms. A data fabric is a data management architecture that can optimize access to information and help data consumers intelligently monitor and organize it.
This term is usually understood as an autonomous ecosystem used to maximize access to corporate data rather than a specific platform from a particular software vendor. For example, with the help of data fabrics, supply chain managers can quickly add new data on supplier delays and production delays and thereby improve decision-making.
The real value of this system is its ability to dynamically optimize data usage with integrated analytics, reducing the effort of data management and accelerating time to value.
Virtual Assistants
The use of chatbots makes it easier to interact with customers and cheaper to serve them. However, the implementation of this technology within companies has not been spread as widely.
The coming year will bring great changes and make enterprise operations faster and cheaper: by 2022, 70% of white-collar workers will interact with conversational platforms on a daily basis. These digital assistants are smart, predictable, and can quickly adapt to changes in the environment.
Thus, chatbots can help organizations reduce the time employees spend searching and gathering information. The technology also allows you to automate daily or regular processes by constantly monitoring changes and informing users about detected updates.
Cloud-Native Platforms (CNPs)
The use of cloud applications is not a new trend, but the adoption of CNPs by various organizations will only grow. For example, according to a Gartner study, by 2026, public cloud spending will exceed 45% of all enterprise IT spending, up from less than 17% in 2021.
The implementation of CNPs helps deliver digital capabilities anywhere and anytime. Such applications are more flexible and easily scalable systems that ensure seamless availability of companies' products, services, and experiences and reduce costs.
Remote workforce management software
Due to the shift to remote and hybrid work models, traditional office-oriented companies are forced to adapt to new realities and organize new working conditions for their employees.
To help your teams work from home, companies need to make serious technical and service changes to ensure smooth operation and transform their business models.
Software systems, such as task managers, time managers, and collaboration tools, provide your teams with essential structure, visibility, and transparency. It allows managers to coordinate resources and helps your employees master their progress.
Gartner predicts that by 2023, 75% of organizations that exploit distributed enterprise benefits will realize revenue growth 25% faster than competitors.
Digital Transformation: plans for the upcoming year
The use of digital technologies can bring a lot of benefits to your business. In 2022, Enterprise software development companies recommend paying attention to Artificial Intelligence, chatbots, cloud applications, data fabric, and the transition to a remote work model. Following these trends will have a tangible impact on the final result and will allow you to compete effectively in the market.
Exposit has more than 100 digital experts who are always ready to help you bring new technologies and digital approaches to your business. Contact us to create effective solutions and start the digital transformation of your business right now.