Live video broadcasting was reserved for the likes of CNN and BBC, as only major media companies could afford the costs associated with it. Today, live video streaming and broadcasting refers to the use of streaming media technology that allows people to share real-time videos over the internet to audiences worldwide. Anyone in the world who has an Internet connection can view these broadcasts on multiple devices, including smartphones, laptops, and desktops.
The process of broadcasting live videos is also called live streaming/live casting. It allows individuals and businesses to interact with audience real-time. Live casting has evolved into this fun and engaging way to simultaneously record and share videos of live events, while receiving immediate feedback.
What benefits does live casting possess?
Grow your audience: It has become crucial for business owners, celebrities, and event organizers to use live casting as a means to interact with and expand their audience. The more people are involved: the more benefits you get.
Connect on multiple devices: The ability to broadcast to and engage with audiences on various devices (smartphones, digital-enabled TVs, tablets, laptops, and desktops) makes live casting the most effective approach yet to stay connected with one's audience.
Allow one-to-many video communication: Livecasting allows users to engage in worldwide multi-person video communication at minimal to no cost, ensuring the same level of engagement found in face-to-face meetings.
Boost search engine rankings: When used tactfully in a website, live videos help to significantly boost the site's search engine rankings.
Affordable and easy to use: Unlike traditional TV broadcasting technology, live video streaming software is today available at reasonable costs and requires minimal training, ensuring ease of use.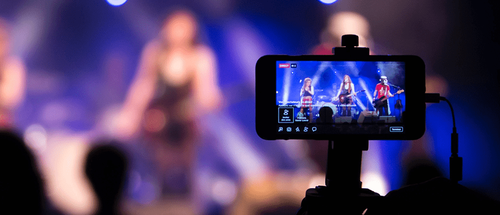 The most popular live-streaming applications nowadays are Instagram and Facebook. More than one billion of people now have access to them. There exist even more sophisticated live video streaming software and tools for it. About 2 billion Facebook users have watched more than 3.5 billion live video broadcasts that were produced since the 2016 launch of Facebook Live.
Businesses are leveraging different live streaming tools and applications. These include live broadcasting features on Facebook Live, Instagram (Live broadcast and IGTV), YouTube, or apps such as Periscope, Meerkat, Twitch. Many business owners tap the services of companies like Exposit to produce more robust live streaming software to broadcast high-quality video. This includes software development and transmission of high-quality video to social media, mobile applications, websites and over-the-top platforms. Tech firms also offer additional services such as archiving, managing, uploading, and storing video; live audience chat; ad-free videos; feedback collection; customer support; marketing; and data analytics tools.
Live video broadcasting is an essential marketing tool for anyone who is serious about reaching a wider audience. Through live streaming, businesses and individuals can expect greater involvement from their audience, by participating in live events and sharing their ideas and feedback.