In 2020, a lot of people around the world were forced to spend a lot of time at home, so practically every one of us faced a lack of communication.
Such circumstances contributed to the popularity of online discussions and various social audio applications that penetrated a wide variety of industries. How can the development of these systems benefit your business?
What is social audio?
Social audio is a new form of social media that allows users to communicate via conversations or singing. Unlike podcasts, which are recorded for future listening, voice-only social apps provide users with the opportunity to actively participate in real-time dialogs.
Audio applications have become particularly attractive to users because they create an atmosphere of friendly conversation, allowing listeners to ask questions to speakers during discussions and even have casual conversations with famous personalities.
Voice-only social platforms are effective media tools that do not distract listeners with the speaker's appearance and background. This approach allows listeners to be more concentrated and increases the depth of contextual understanding.
This way, audio apps fit seamlessly into people's lives, meeting their basic communication needs and helping companies open up opportunities for their business development and reach new audiences.
In the process of communication between speakers and the audience, such audio systems allow you to create a strong connection that is ideal for:
Businesses of different sizes in order to attract the attention of a potential audience and find new ways to increase profits;
Today, one of the most popular audio applications is Clubhouse, which allows users to connect to different rooms according to their interests, listen to speakers, and join discussions. Users can also create their own rooms and invite other participants.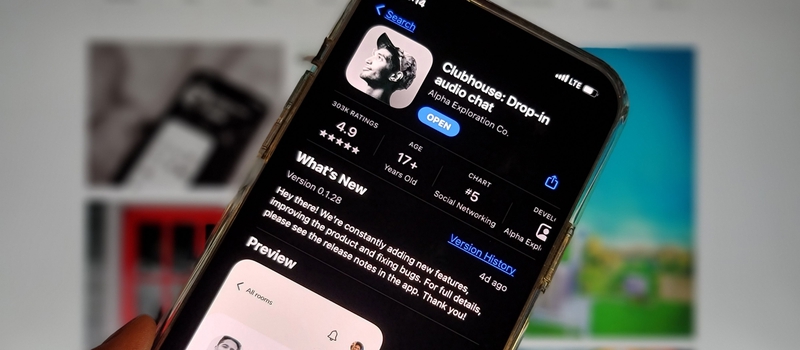 Audio apps have become so popular that Twitter, Facebook, LinkedIn, Spotify, and other famous platforms are also looking for ways to implement new audio features to attract and retain their audience.
Why voice apps are beneficial for business
Voice-only social apps with live communication can bring a wide variety of benefits to businesses:
Close Connection with the Audience 
Audio applications will help you get closer to your audience, as listening to the speaker's voice gives the audience a closer connection than, for example, just reading an article on a website.
If you regularly communicate with your audience, listeners will begin to delve even deeper into your product and understand your company through your presentation and explanations. Moreover, the ability to get quick feedback will allow you to fast respond to the priorities of our listeners and change your strategy.
Simplicity
Using voice applications is a simple method of attracting customers, which you can utilize at a convenient time for yourself and without running to the additional help of other specialists.
Your audience also benefits from using voice applications: listening to a conversation takes less time than watching a video, and it can be combined with other tasks.
Audience Loyalty
Audio conversations are lively and more personal, so they attract your audience more and increase their loyalty to the product. This approach helps you build warm relationships with your listeners and increase their engagement, which allows you to be more competitive on the market.
Brand Awareness
Regular audio discussions help develop your company's brand by helping you talk about your products and services. Thus, podcasts serve as advertising for your business, which raises your rating and increases revenue.
This way, voice-only social apps are a new trend that has become very famous among representatives of different spheres, helping them attract a potential audience. Audio platforms bring your business a number of benefits that help you achieve new results and improve your market position among other competitors.
Exposit can provide you with the complete package for audio streaming that would enable you to broadcast live & on-demand media content. Contact us to create a platform that will engage your listeners and bring you new opportunities for your business development.