The development process of an innovative system always starts with a unique idea.  However, most business projects fail within the first year after launch.
One of the main reasons for failure is the lack of proper idea testing. However, there are several ways of checking your thoughts and assumption before a development team starts creating your platform.
These ways will help you find whether your idea is reliable and whether your product can be successful. So, how can you understand that your idea has real potential without spending a lot of money?
3 ways of testing your product idea
Testing your idea at the very beginning allows you to find the best way of creating a successful product and avoid unnecessary expenses. How can you check the potential of your product?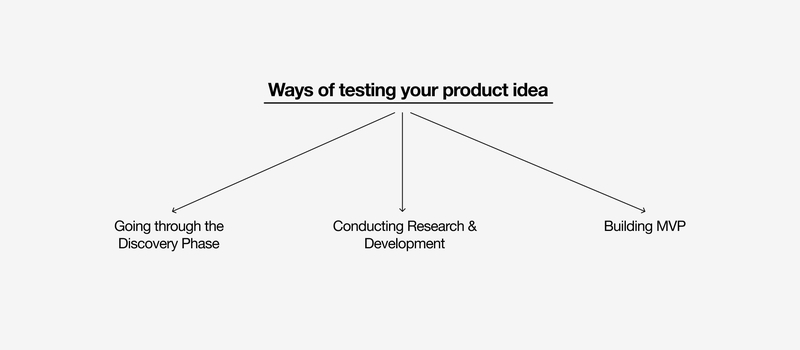 Going through the Discovery Phase
Before starting product development, the team of specialists determines the project goals and develops hypotheses based on these goals.
A correctly formulated hypothesis is a verifiable statement that often includes a prediction. Such assumptions help to find solutions to emerging problems and set the logic for further research of your idea.
At this stage, the development team also determines the stakeholders and their requirements. Special attention is paid to users: the team analyzes their age, gender, level of education, and other characteristics impacting your product.
The customer survey will help you identify the pains of your audience and create a product that will help clients solve their challenges and improve their experience. For example, it can be time-saving, simplicity of use, and much more.
After identifying all the key stakeholders, the development team members discuss the features and functionality of the application. They also define development tasks and the scope of work.
After conducting such a study, you will get a more realistic idea of how much money you will need and what direction you should follow in order to create the desired product.
Conducting Research & Development
The R&D team considers many different aspects that can have an impact on the creation of your product. Specialists collect and analyze this information to optimize product development based on your wishes, budget limitations, and related risks.
During the conducting R&D, the development team pays special attention to your target audience. The specialists get to know your potential users and understand their real problems and needs in detail.
If your product meets the needs of users, then this system will definitely be popular and will be able to remain a leader in the market for a long time.
R&D specialists also identify your competitors and study the products they offer. By doing this, they can create solid business strategies that will improve your future product.
Analyzing the strengths and weaknesses of competitors will allow you to form an idea of how to create a product that will stand out in the market and surpass existing ones.
This approach will also give you opportunities to avoid mistakes that have already been made by other businesses and make your product stronger and more effective.
R&D researchers also track your current industry trends to keep your business up-to-date and study international standards and regulations that can impose restrictions on the development of your project.
After conducting such a detailed study of your project idea, the team decides whether to implement the idea and what is the best way to do it.
Building MVP
MVP is the earliest version of the application that has basic functionality and important minimal functions.
The goal of creating an MVP is to quickly launch a product based on your idea with a small budget. This approach allows you to check users' attitudes to your product and plan future updates based on the received data about user preferences.
Creating an MVP involves finding the right balance between what your business offers to users and what users really need. The goal of MVP is to test the hypothesis by minimizing errors and reduce development costs.
For example, in 2014, Amazon announced a loss of $170 million after a failure with the Fire Phone. The reason for the failure was simple: this phone was not tested by users, and therefore the product turned out to be useless. However, when using MVP, such problems could be avoided.
Validation is the best decision for you
In order to successfully implement your bold idea, you should test it at the very begging of the development process. The discovery phase, R&D research,  and building MVP will check the potential of your idea and increase your chances of real success.
Exposit can help you create a quality software solution aimed at delivering effective services at every stage of your idea implementation: from MVP to a quality fully-fledged product. Contact us if you have an idea and want to implement it in the fastest and most convenient way.